With the development of everything in life as we know and the cold skyscraper and offices have risen dizzily. It's ironic that bringing natural elements to workplaces might be one of the most creative things that humanity has ever invented. So today, let's go with the reputable office interior design company Crystal Design to find out more about the Biophilic office design trend.
What is Biophilic office design?
The biophilic office has other names such as bio office, biophilia office or green office. Usually designed with the style of a co-working space office with the addition of walls being replaced by lots of green trees, instead of big long white walls. The Biophilic design aims to higher connect us, humans, with nature within the place we are living and working every day, like we're planting trees at home.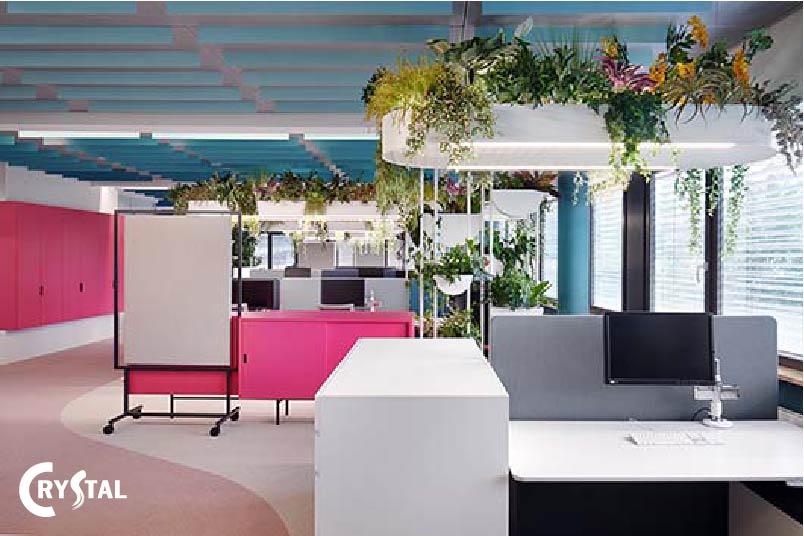 Working space designed combined with greenery
Does it necessary to have a biophilic office design?
When time starting to change, the style of offices will start shifting as well. The traditional ways of offices are starting to fall off. A modern office nowadays should create feelings of friendliness for the employees to enjoy going to work. Sounds too luxurious for you? Look at what Spaces in Shanghai had done with the entrance of their company and you will see what Crystal Design just mentioned above is absolutely achievable.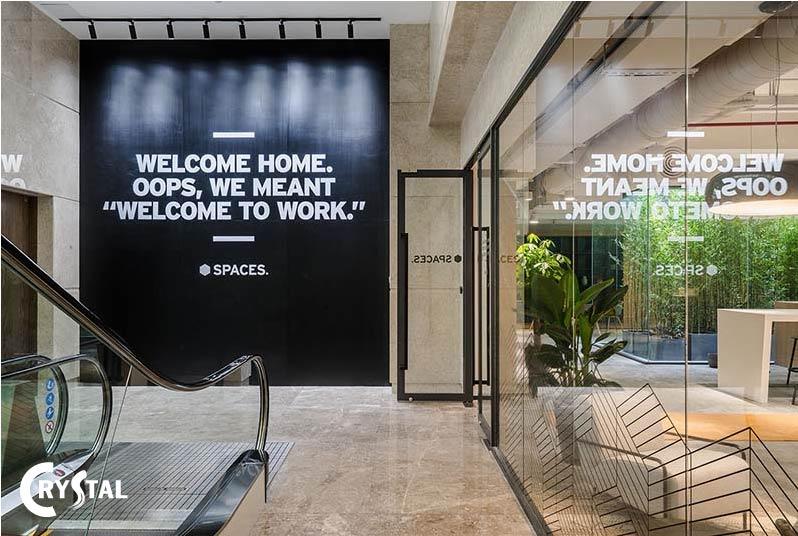 Biophilic office design of Spaces with the saying creates a warmth feeling and inviting
Benefits of biophilic office design for your modern office.
Now I think you can imagine how calming and wonderful it must be once we bring natural elements into our workplace. Let's look at it a little bit closer. What are the main benefits of biophilic design brings to your company?
The Physical and mental well-being of your staff will improve tremendously. If there is one thing that everyone was taught when they were young is that with more green plants around, the environment will become fresher and beneficial for our health in general.
Efficiency is the next thing that will be affected by this style of design. Natural light is so important to our sleep-wake cycle that if we only got exposed to sunlight for a short amount of time would be able to raise the energy level, awareness, and of course efficiency.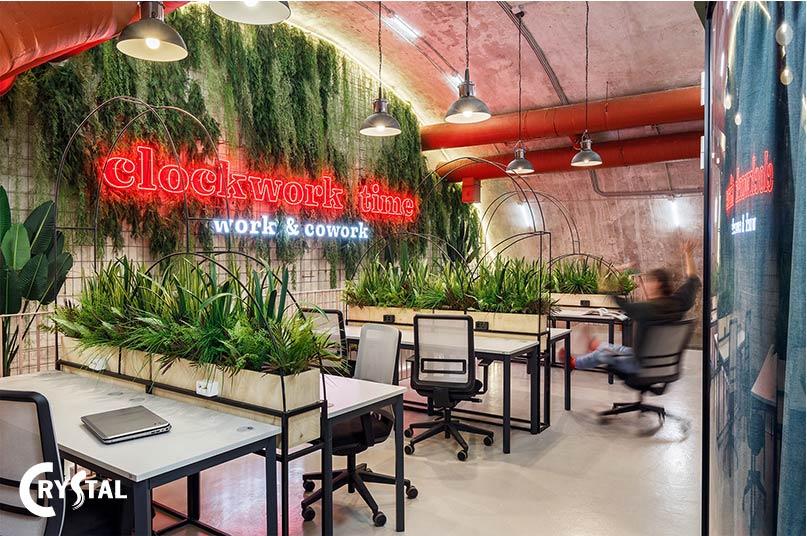 Office interior design with a combination between biophilia and industrial style
The staff retention aspect of the biophilic design is going to be a lot better than any other design style in general not just for offices. It creates the feeling of warmth and caring from the owner/leader to the employees' well-being which is a very welcome change comparing to the stale office settings. The biophilic design can improve the environmental quality around us which will indirectly lead to workers feeling more relaxed coming to work which leads to them being more productive and loyal.
Branding is the last aspect on this list but not definitely not the least. The US Association for Psychological Science has studied that it only takes us 1/10 of a second to form any kind of impressions toward anything we came in contact with. Biophilic elements is an aesthetically pleasing design to any viewer that comes into the main door that can help increase brand awareness and create a positive and unforgettable brand experience.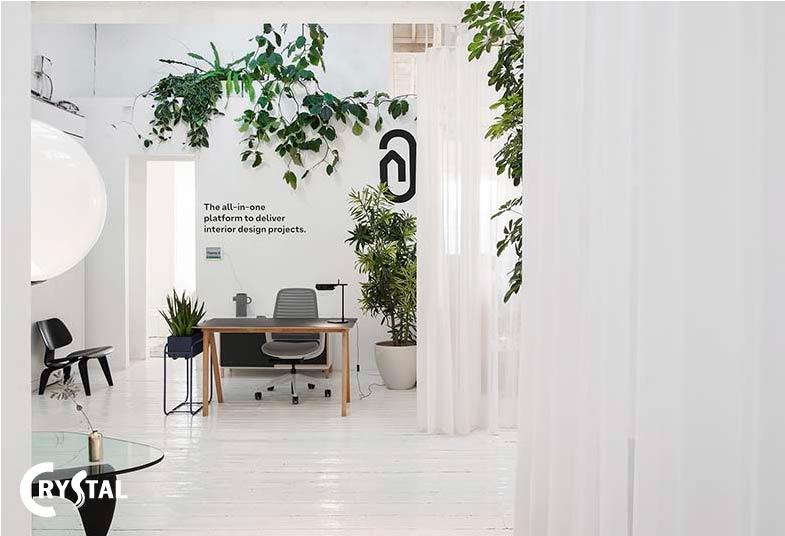 Biophilic office design style of Clippings with white as the main color for the back ground which makes the brand's logo stand out
Some of the most creative and stand out design of the biophilic in the office 2020.
You must be having a little feeling towards this style of design by reading until this heading. Interior office design company Crystal Design hopes that through this article can somehow improve the movement of protecting and spreading the positivity of a healthy environment. Not only so, but furthermore makes people feel energized, excited while working, and living in an environment full of the elements you can only have in nature with the biophilic office design style.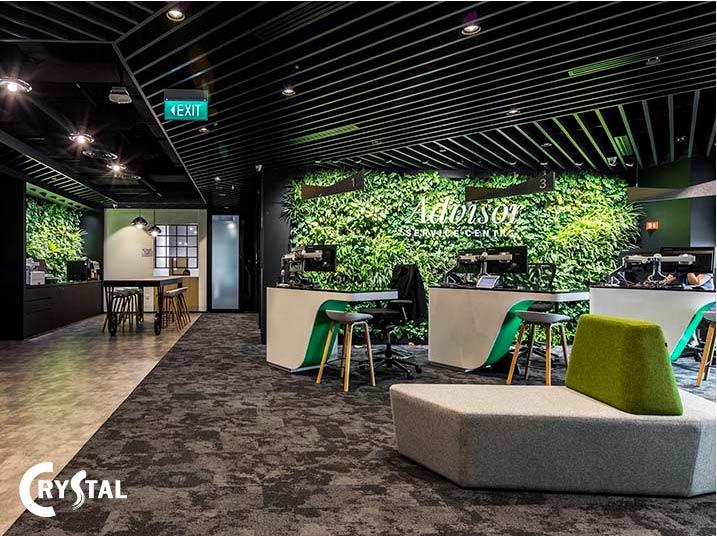 The biophilic design style for the reception area with walls covered in greens for highlights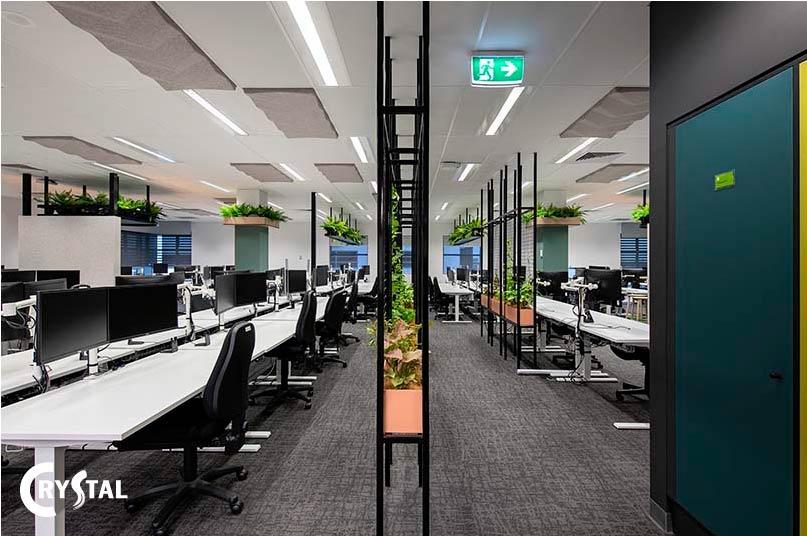 Office design with bulkheads having small plants inside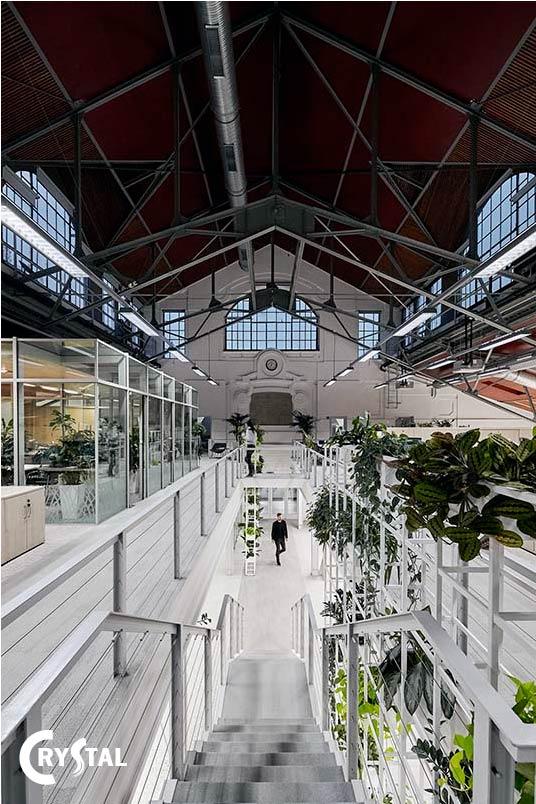 Open space office style with a touch of greenness in the hallway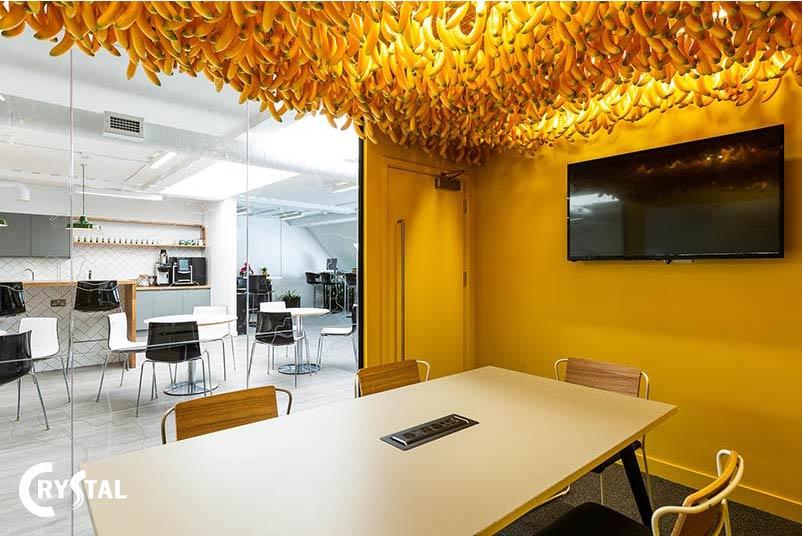 Office interior design with a comedic touch in the meeting room that boosts comfort and creativity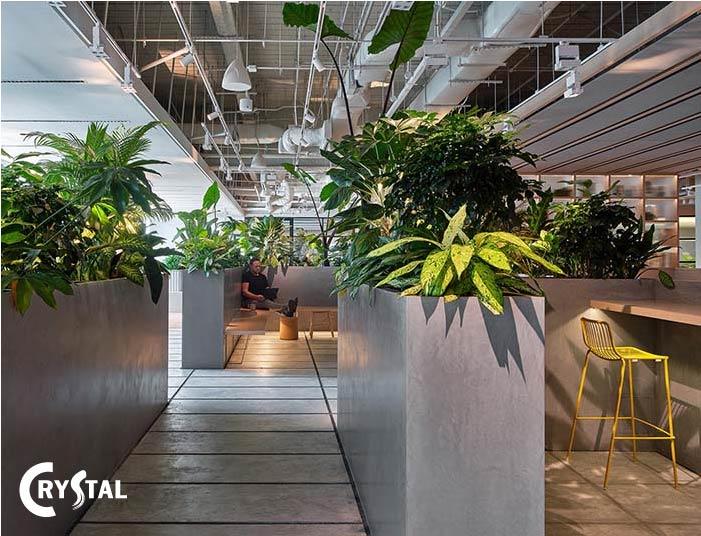 Relax zone designed for company office with plants on the walls
If you are having intentions and will be needing an office interior design & construction company for your enterprise, please contact us now for immediate advisory through dialing the number: 0906317386
This article aims to share with you the definition and benefits that biophilic design bring to enterprises, as well as some of the break-through design in creativity that we can help you with. Crystal Design is a reputable office interior design and construction company in Vietnam that can help your company achieve unique office interior design that shows the color of your enterprise such as with the Biophilic design.