The aesthetics of an office will largely determine the quality of the work and how satisfied everyone is when working in that environment. The items of the office furniture used will determine the attractiveness of the office and can establish the company culture that you want to target. If you want to own a fancy office interior construction, the industrialization trend in office design is a style you should consider.
What is the trend of industrialization in office interior construction?
Industrial style is also known as loft style. This is one of the design trends that are influencing and thriving around the world. The office industrial style was born due to a shift in the industry following the trend of globalization, causing the majority of factories in Western Europe to be forced to close and move factories to other countries. The factories were gradually abandoned and left heavy damage to the industrial cities at that time. This design concept was derived from abandoned factories as a way of optimizing those vacant spaces. But with the advancement of today, this rustic style has transformed into modern offices and is more popular than ever.
Inside a modern industrial style office
The factors that make up the appeal of the industrialized office design.
Industrial style does not bring fussy, flowery, not important details, but especially brings a feeling of classic, cool and easy to be close to everyone. But with more than 23 years of experience in the field of professional office interior construction, Crystal Design will help you bring the core elements of this industrial style and modernize them through the following elements.
Open and airy space.
Spacious space is the first idea that comes to mind when it comes to a factory. Therefore, setting up a non-simple open design scheme for industrial office style is a sensible choice. You can allow infrastructure to be exposed in this design and embrace the rustic, rustic structure of the structures within the walls. Moreover, this design style will be towards minimalism, which will help to add other elements and create interesting accents in the space.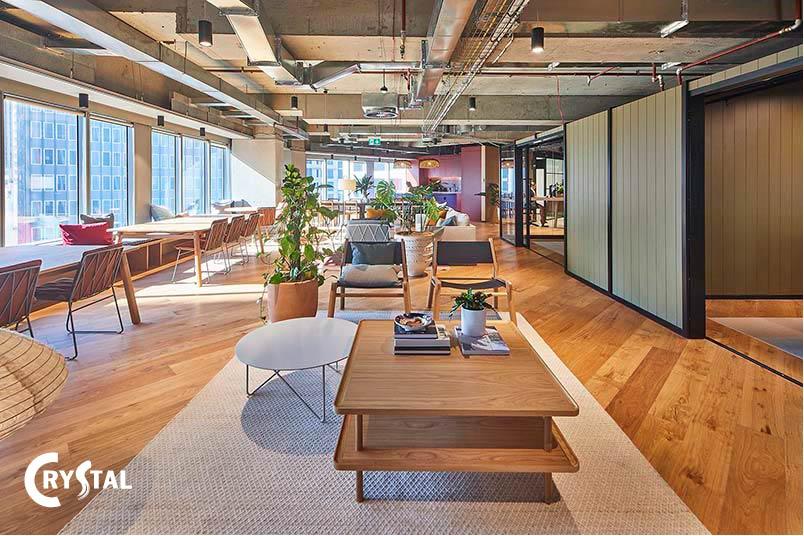 Office combined with open space trend
Modern lines & industrial charm.
Brick walls and glossy metal materials are the main ingredients that make up the modern office industrial style. One of the easiest areas to make this happen is in people's workplaces. Modern equipment mixed with structural parts of the old industry is a key and simple to create a combination that seems to be contrasting but creates a harmonious working space. very interesting.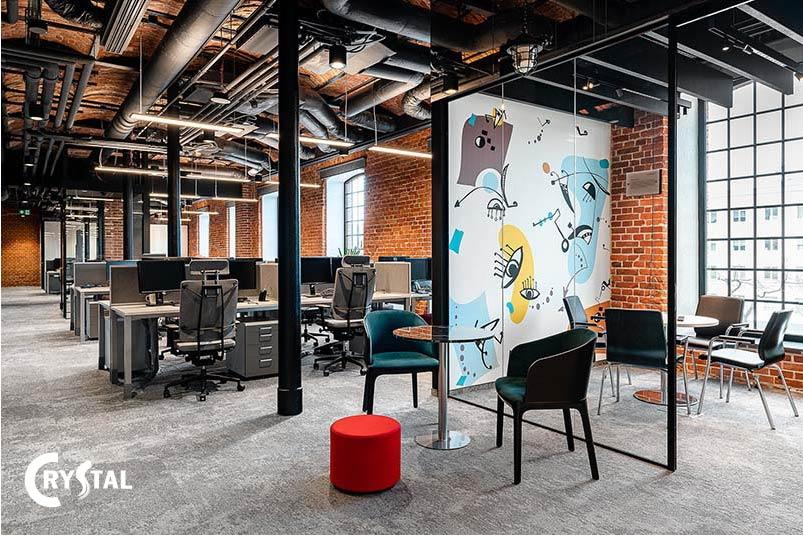 The combination of classic and modern in the office work
Unique light in space.
High ceilings designed in conjunction with the array of colors is an interesting impressive next industrial style. Combining open spaces for this style helps to maximize the amount of natural light from outside. To take advantage of that, we should add elements such as mirror walls, or have contrasting colors to create highlights and green miniatures that attract viewers.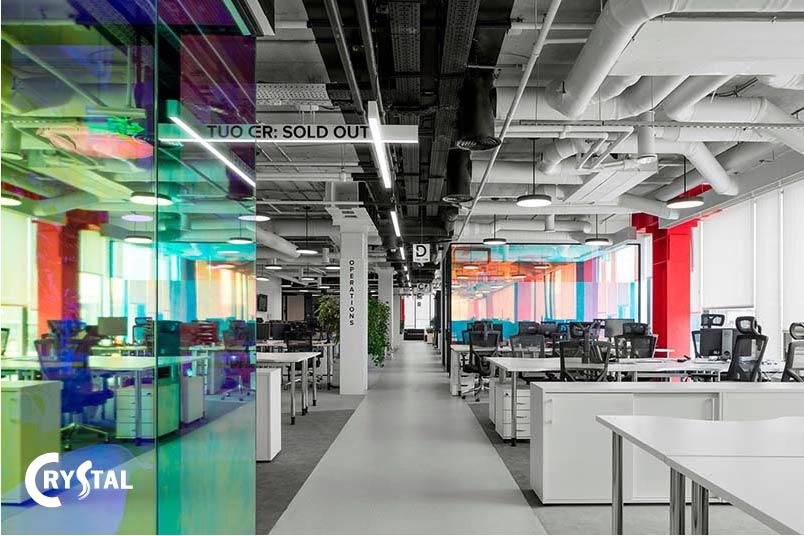 The design combines many natural elements to bring the office to life
Combine material between wood and metal.
Interesting interference between textures from wood grain and shiny metal is a very popular industrial interior design trend. A great addition to wooden materials is the industrial element with its sleek metal finish. We can create a mix of modern and classical by enriching the contrasting wood and metal materials to reveal a character unique to industrial design. great and unique.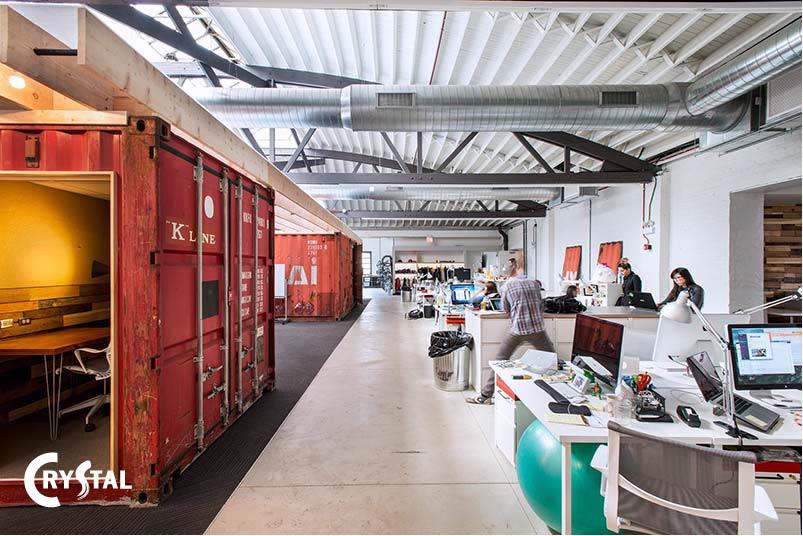 The fancy combination of wood and metal materials in the office
Hand carved floor.
Carved concrete or wood flooring are two of the most popular industrial flooring options. Using a laminate floor can add warmth to a contemporary industrial design, providing a great contrast with other cold metal elements in the space. Adding rugs can create a bold contrast without losing the naturalness of the space.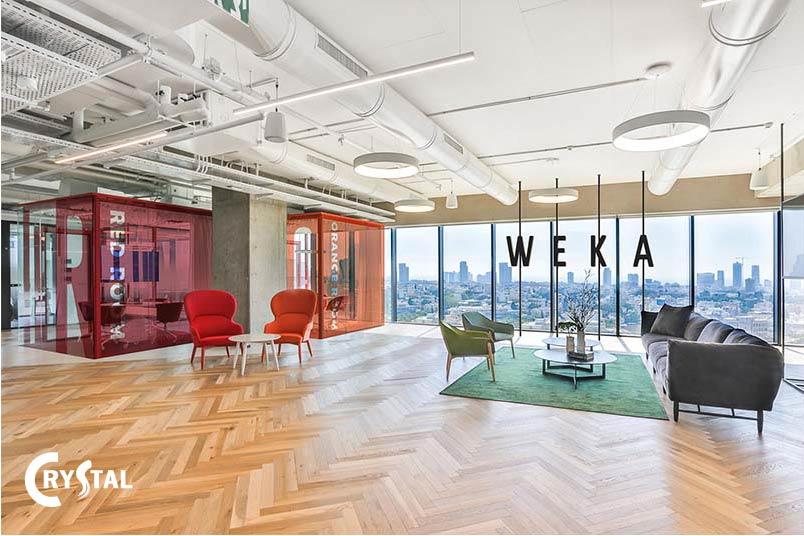 Wooden floors in the office bring accent patterns
Office designs with an impressive industrialization style in 2020.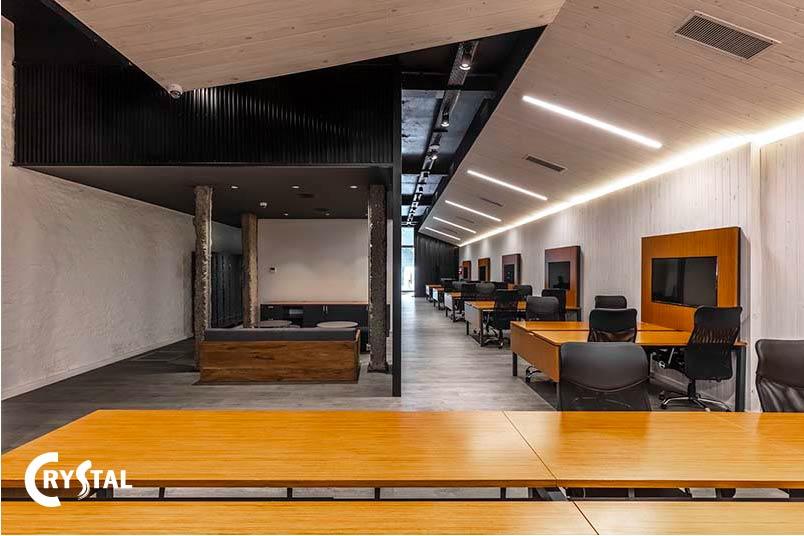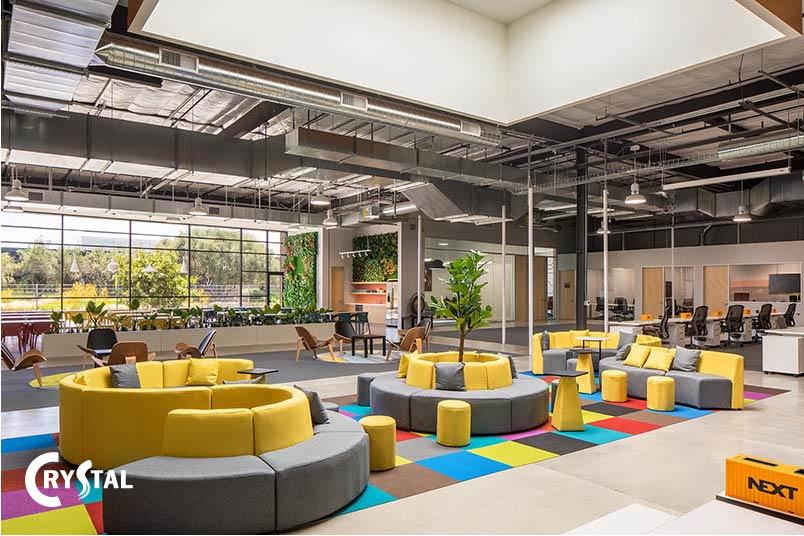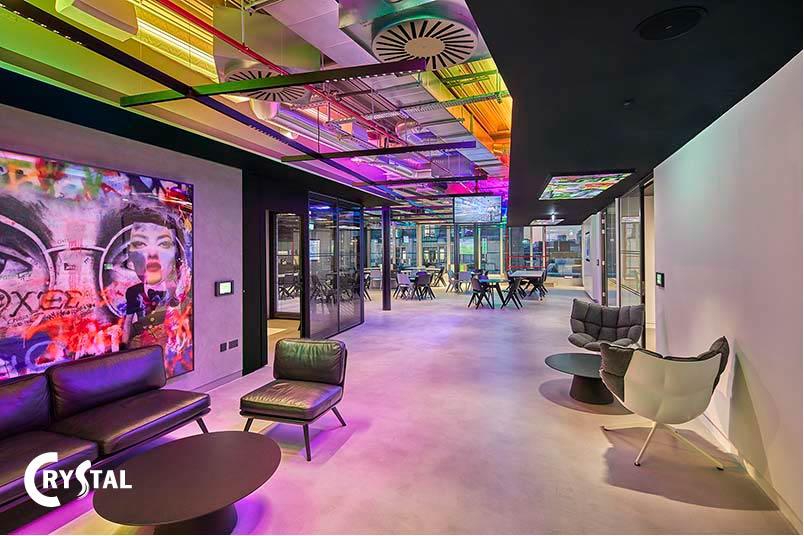 Prestigious Crystal Design office interior design company has had more than 1,200 projects implemented. We can confidently assist you in obtaining fancy and modern industrialized interior designs. With over 23 years of experience in the field, together with a team of professional office interior design consultants of the company, we will realize all the wishes of our customers. If you need an office interior construction package service, please contact Crystal Design via Hotline: 0906317386, we will always be ready to serve you in the most dedicated and professional way.