Coworking spaces – the current workspace trend that is very popular in the community. When giving a Coworking spaces design strategy, the important thing is that we have to be able to build the community in the layout and construction of the workspace. Let the prestigious design and construction company Crystal Design accompany you and find out the characteristics and the tips to help you build a beneficial coworking space.
What is Coworking Spaces?
Coworking spaces are a general workspace but also known as the offices in which an individual or a group of people can rent tables or private offices instead of investing in building their building. This form of workspace is primarily for a small group of people or individuals, the people who do not need to use the entire office space.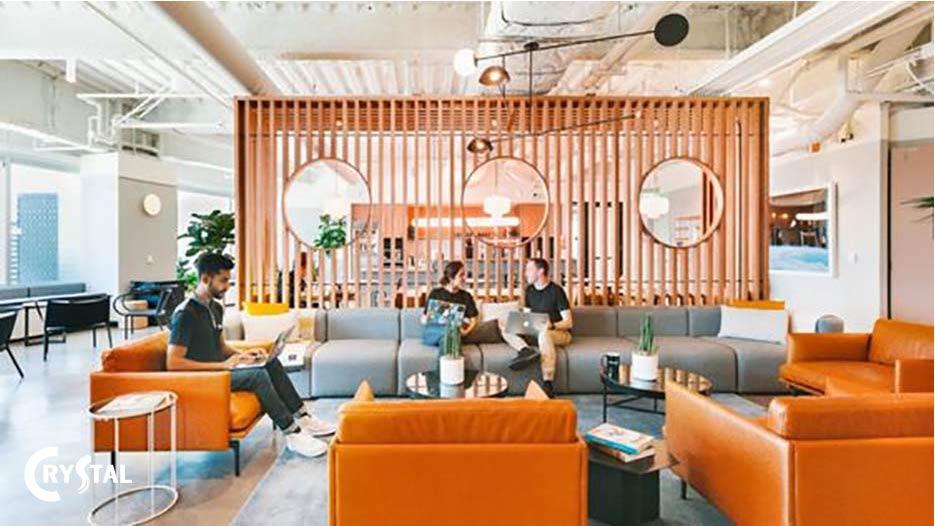 Coworking spaces are a popular trend in the business world
What makes coworking space better than traditional offices?
Firstly, the increase in the freelance working trend and the start-up companies make the need for looking for a space where they can do their works and also have a lot of freedom of use and flexibility.
Secondly, to the small group of people, being able to invest in a private office or sign a contract of a lease will not suit them because they won't utilize all the spaces.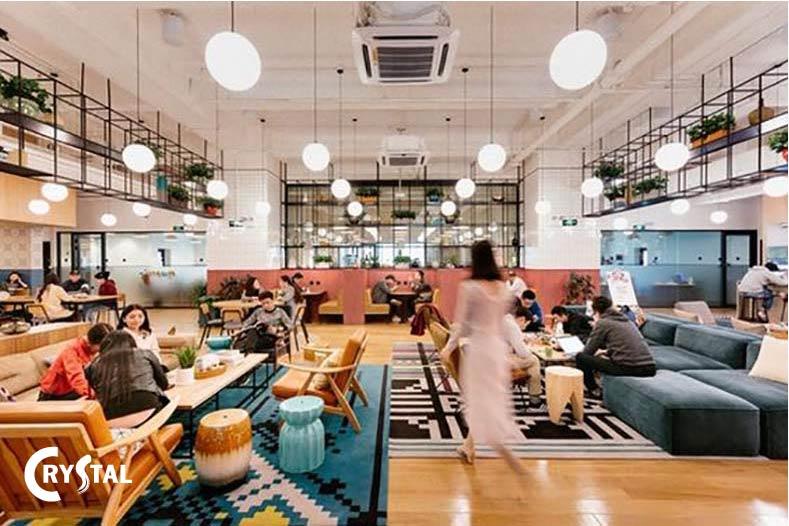 The rise in the trend of freelancing and startups has driven the development of coworking spaces
Furthermore, a general workspace can easily provide conveniences such as a pantry room, cleaning service, and modern pieces of equipment, because those fees have already consisted of the rent of the members. On contrary, a small group of office workers can have quite some trouble buying these kinds of conveniences, because the costs for each member would be a lot higher.
The selection of tables and workspaces are more versatile compare to the traditional offices. Most Coworking spaces offer a variety of private offices, public areas, and personal desks. You may not have your desk but you have the right to choose any seat in the public space, like working in a public place or café. However, more than a café, you will be guaranteed a working space because you have paid to use the facilities provided by the company as part of the lease.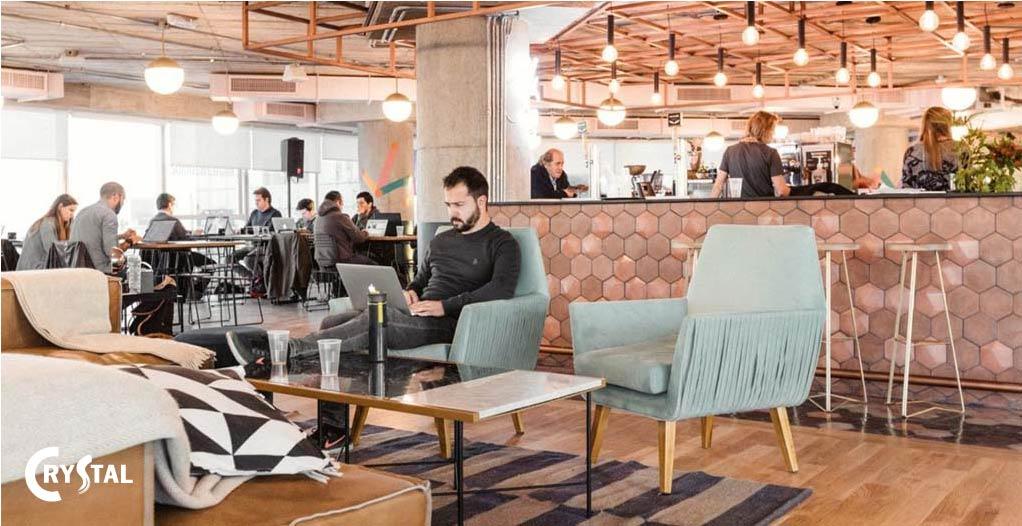 Flexibility is a highly valued element in the coworking spaces
Elements of office interior design in the trend of Coworking Space
"My" and "our" space: At its core, shared space remains a place to get works done. This means it is important to have private or simply quiet areas where members can focus maximum on their work. On the other hand, shared office space will always have many groups of people to discuss, so common areas are essential for people to communicate while working.
Various seating arrangements: Set up tables and office chairs in a variety of styles: a common space with lots of beanbags, or an open area with natural light combined with many long sofas; or maybe the colorful sitting stairs with pillows nearby. These spaces will create new perspectives, stimulate creativity, and reduce stress for individuals and workgroups.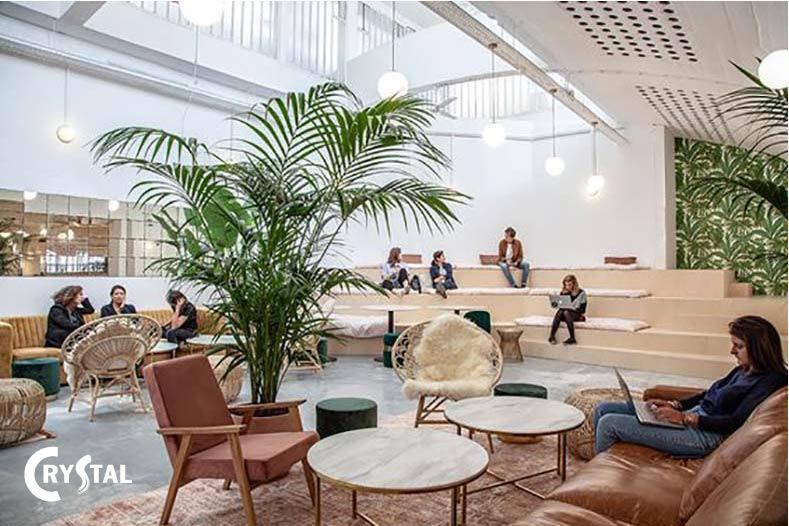 A variety of coworking spaces to stimulate breakthroughs and increase the productivity of members
Storage space: Members will also need to store any additional office equipment or furniture, so storage cabinets are needed for co-working spaces. Storage space can also be used to lock confidential documents or save additional equipment needed to host special events.
Comfortable furniture: You want your members to feel like they're working in a better space at home, which means your furniture has to feel comfortable. And don't forget to provide basic office supplies such as paper, pencils and pencils, presses, paper clips, printers, It is utilities like this that make a difference to your co-working space.
Comfortable interior and facilities suitable for members who spend many hours working
Efficient lighting source: Of course, a great working space is indispensable to the lighting system. In the design and construction of office furniture, you should provide a variety of lighting such as large windows taking natural light, light from individual lights on each desk, and a quality lighting system allocated for the entire building.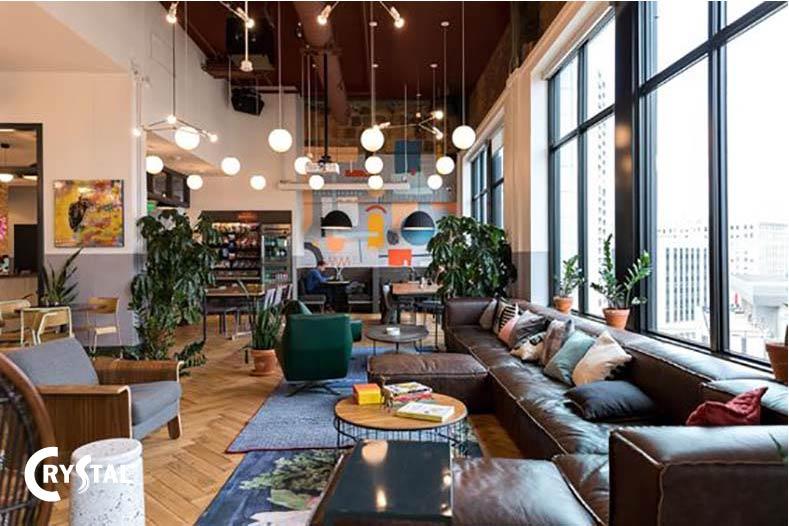 Lighting has always been a highlight in the design of coworking spaces to bring positive lighting effects during the activities of members
Pantry and rest area: A pantry is a welcome place for any co-working space, especially when there are a lot of meetings and getting to know the coffee machine area right away. A pantry is also an important place because it provides members with a place to dine and socialize. In particular, snacks such as snacks, fruits, and some delicious coffee will make a big difference in the experience and awareness of members about co-working space.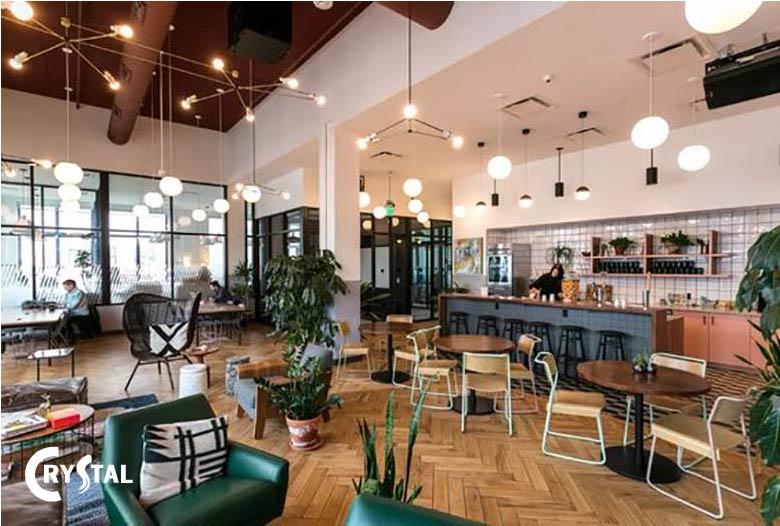 Pantry is a must-see in coworking space as it is a great place to meet and get to know each other amongst members
The above is the sharing of the trend of coworking spaces design that you can easily encounter today. Crystal Design is a package office design and construction company in Vietnam that can help you achieve unique corporate interior designs, helping you turn your desires into a reality of an ideal workspace design. If you are scheduled and need an office design consulting company for your business, please contact us for advice immediately via our Hotline: 0906317386.