One of the great challenges for designing a small-scale office is how to optimize its usability and fully functional in a modest space.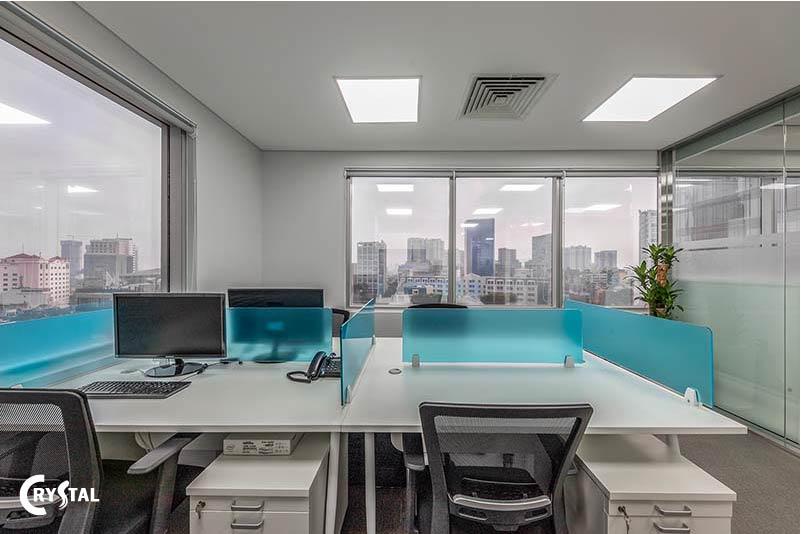 Small office space harmonizes with blue partitions as accents
Criteria for designing a small, compact office
To be able to design small, compact office, you need to ensure the following criteria:
Style of design
The design style will often be influenced by the image and culture of the company, which is something you should define before deciding on a design theme. This will help you get the best overview, to make the design and construction smoother.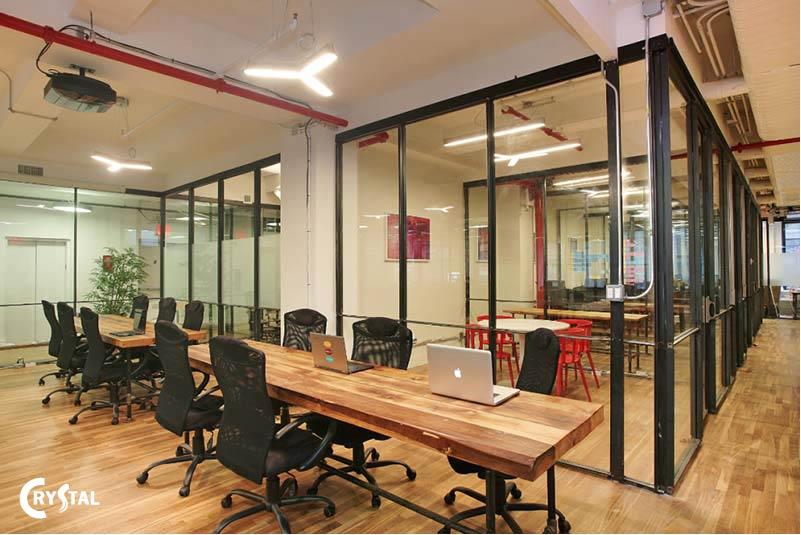 Youthful and modern styles are often found in start-up business
To be able to optimize performance and functionality for a small office, designers often use two design styles: Minimalism and modern design styles.
Minimalism style
Minimalism design style seems to be the optimal solution to solve the problem of small office space. A characteristic of the simple design style is that making use of interior products such as vertical tables, long shapes, shot directly at the wall to reserve space. In addition, the colors that are often used in minimalistic designs are often neutral, creating a spacious area for the office.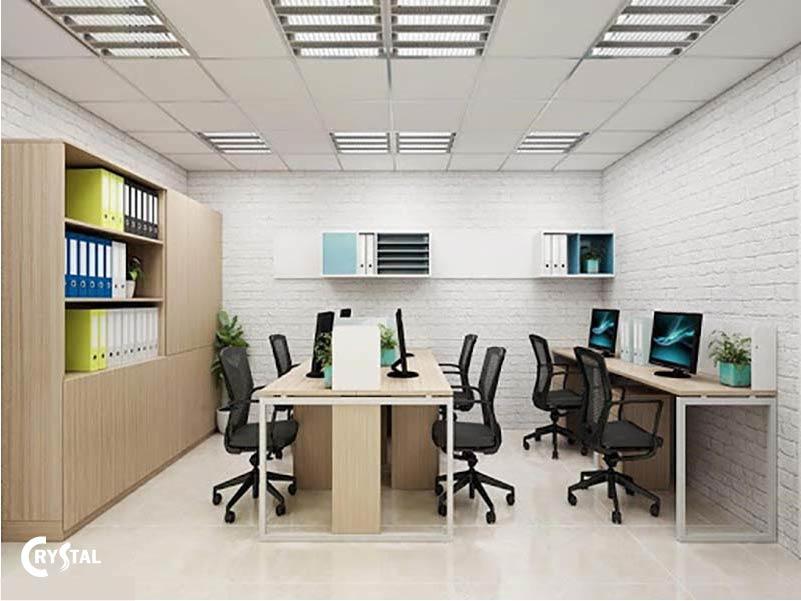 Minimalism design with neutral color
Modern style used in small office
Modern design style helps to minimize cumbersome patterns, making office space become airy. The selected interiors have simplicity in terms of design but still ensure the functionality and the modernity they bring to the office space.
For example, the work desk could be intergrated together with moveable file drawers, making it convinient for office arranging. For those offices with limited space, there is a commonly trick that usually used is to have matching color of space and furnitures. It could help you expand your workspace tactfuly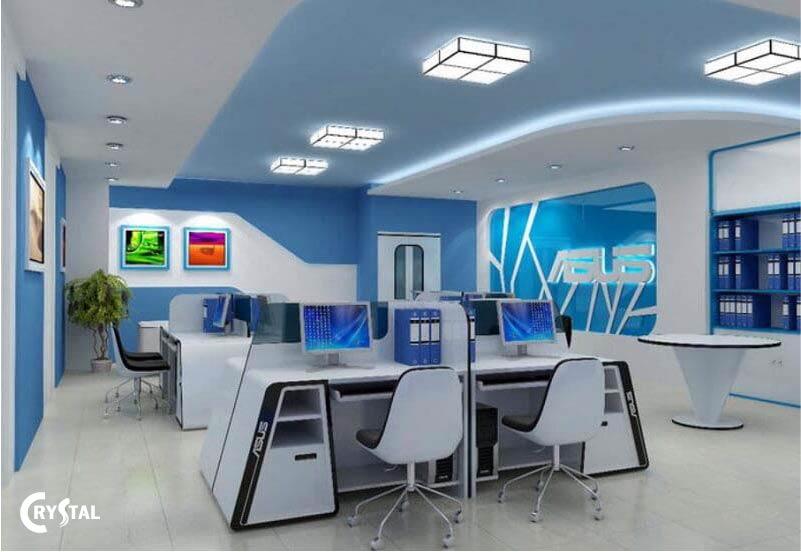 Synchronous interior and office colors create a well-ventilated space
An interesting thing in common between modern and minimalistic designs is that they both eliminate the cumbersome décor, and instead spend the entire budget focusing on the important interior.
Master the lighting in your office
Lighting plays a huge part in the small office space. Chandeliers, fluorescent, wall mounted lights, recessed ceiling lights are the perfect choice for you. One of the taboo in designing is not be able to bring out the required brightness for the office. The combination between natural lighting and lighting system is also essential for your office.

Combining natural light from windows and lighting from ceiling lights
Selecting and arranging furnitures for the office
Using group table intergrated together with drawers and partitions could solve your area space problem. Aside from dividing work area, partitions are used to create professionalism in the workspace, forming a private space for employees. Fixed or portable partitions can be customized according to the purpose of use in the office.
Transparent partitions create a sense of ventilation for the staff
You should choose small document shelves integrated with the desk to save space for small offices.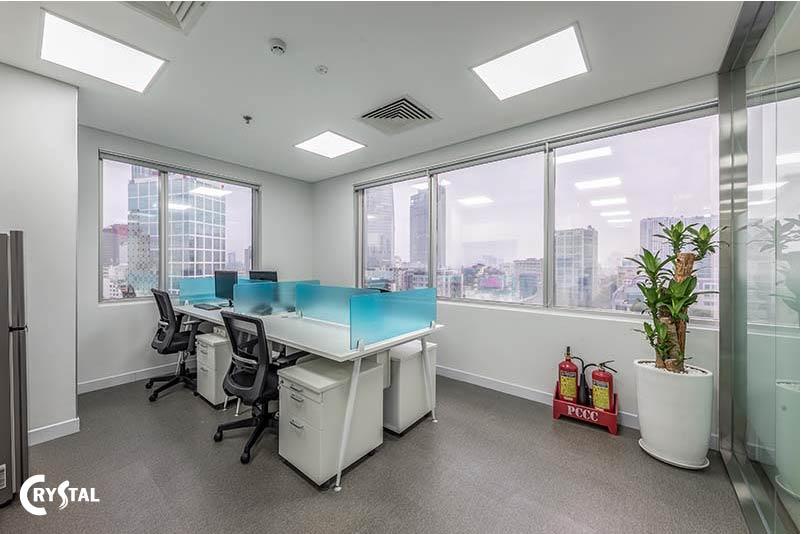 The removable document cabinet is placed under the work desk for convenience of use
Small scale office design ideas
Office with an area of 20 square meteres should be given priority in using open design direction. You can use large glass windows, to bring in natural lighting from the outside to make the workspace looks more spacious.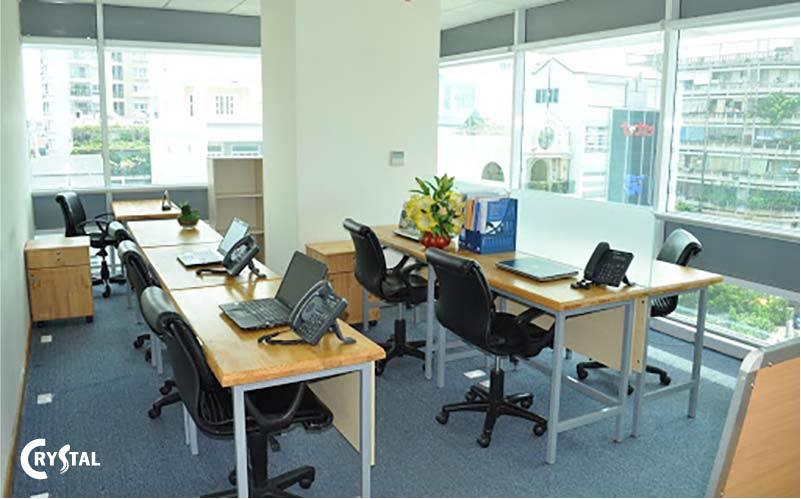 20 square meteres office with open design
30 square meters office with bright tone color such as: white, grey, brown and yellow could create a sense of airy, spacious area for the office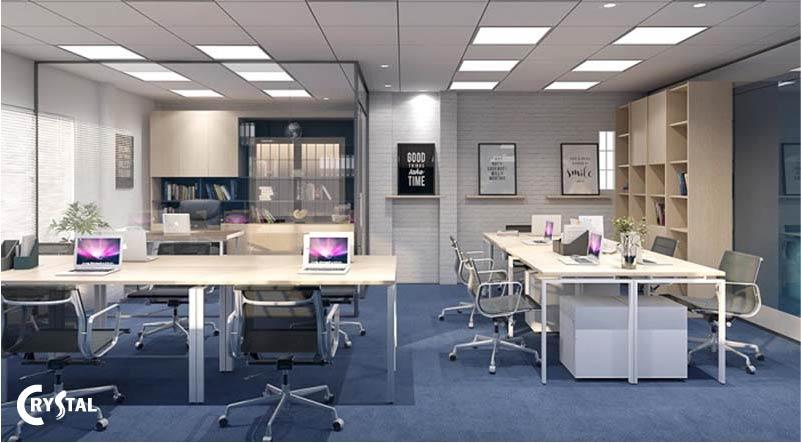 Office of 30 square meters with bright tone color
With the 50 square meters offices, you can optimize the space by changing the personal work desk into desks for 4-6 people, as well as converting desks for an unexpected meeting. It is advisable to discard of furniture that is not worth the optimal usable area and to buy furniture suitable for ease of change for multiple purposes.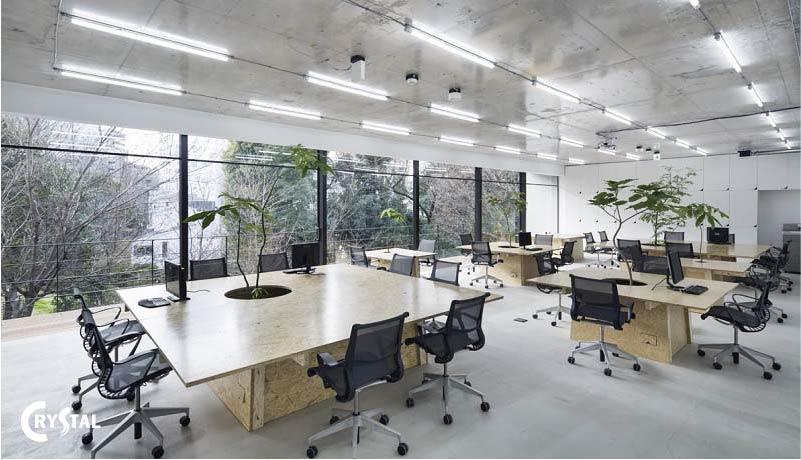 Desk for 4-6 people to save and expand the working space
Crystal Design TPL with 20 years of experience ensures to become the perfect consulting and construction partner for your business. If you are looking for office interior design consulting, immediately contact us via Hot-line: – to be consulted and designed for the most modern office models.