When it comes to the phrase "office", everyone probably thinks it is a "working box", where employees sit side by side, but are segmented by walls; a cramped space with tired and stressful working hours. However, this was only true about twenty or thirty years ago. Following the flow of time and the development of society, the office interior design industry has had great revolutions that made changes to employees' thoughts, feelings, and general psychology. Offices in the present era have overcome the boring old-fashioned trail design. Using creative ways that clearly show the personality and culture of the business, Crystal Design clearly innovates. Although the office design field is not entirely considered as a form of art, every year, famous designers or leading experts always create new, outstanding unique design trends. Therefore, let's join Crystral Design's campaign to review the outstanding office design trends in 2020.
Open office design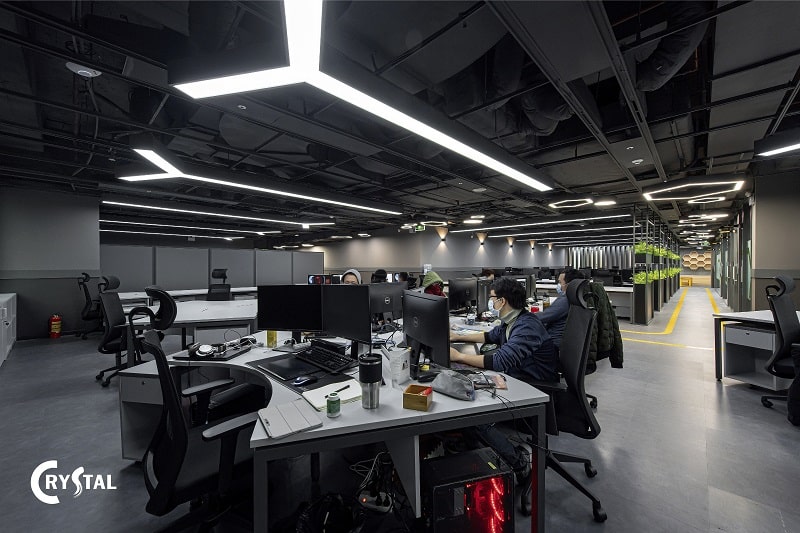 The working floor designed with open space
A well-ventilated workspace will create comfort as well as increase creativity for employees. Unnecessary objects and aspects in the office have been eliminated and replaced by the partition system; long tables and office equipment can be shared among the staff. Open office space themes will promote interaction between individuals, making it easy for employees to move and discuss work when needed. These open spaces are especially suitable for the business units that require high teamwork skills, often needing to exchange information and work together with different departments. Designing an office in an open space will not only help employees easily move to discuss work when needed, but also helps business owners save on construction costs.
Multi-color office design.

Hanwa Life office
To make the workplace always fresh and dynamic, a space can be selected in contrasting colors or colors selected to create a unique feeling. These aspects inspire employees to work while showing highlights and setting the path for businesses. The different colors also serve to distinguish the different areas, to help customers easily access and understand the identity of the business, the colors of the designated areas can be used to create a working mood for the company staff.
Office design with technology integration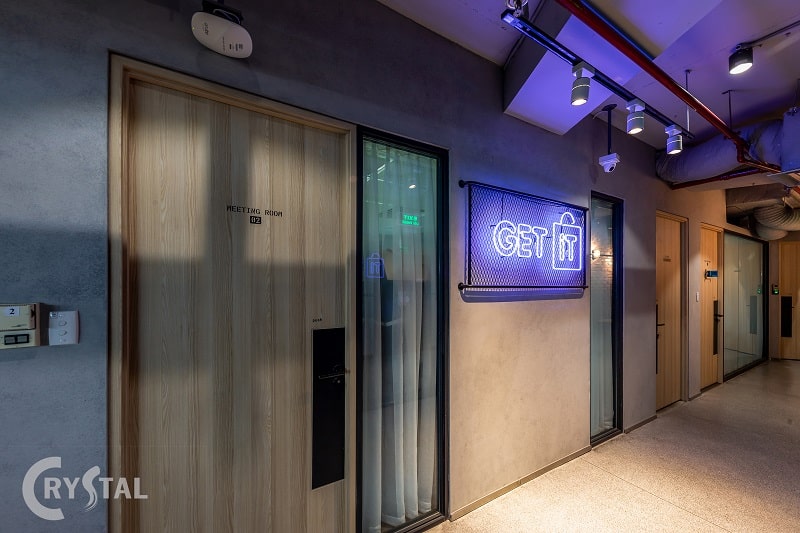 Line – Get it technology integration office was designed and built by Crystal
Technology is playing a huge role in modern offices. Integrating technological equipment into the working environment has been a prominent trend in the past few years. With a laptop instead of an old computer, employees can easily move their work seats and with just a swipe of the hand, all information will be projected on a larger screen, which also requires the electrical sockets to be cleverly and reasonably arranged.
A little green for the working corner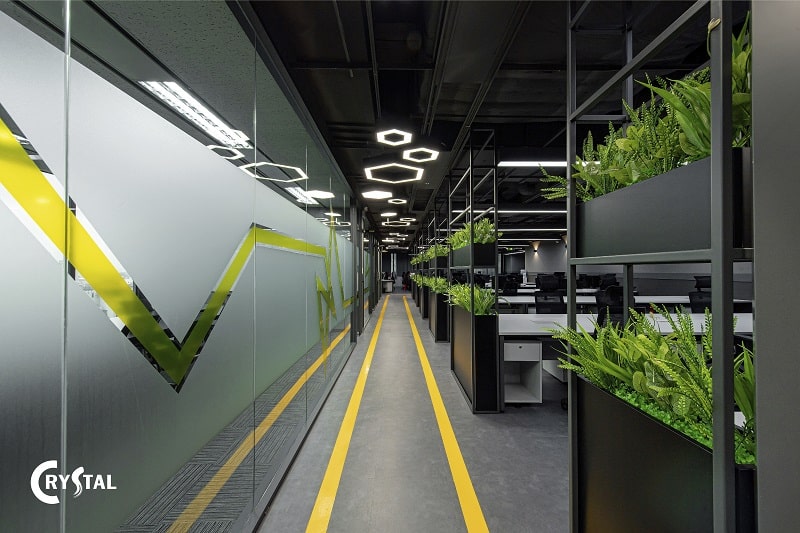 Office with greenery
To relieve those stresses, the green office design is considered the perfect solution to bring the most comfortable working space for employees. A green space will help reduce stress levels, inspire creativity, increase productivity, and improve the mood of all employees thereby improving the quality of work. Especially in addition to well-being, the air in the room is better conditioned to improve the quality of health. You can arrange trees on top of the desk or partitions in the office or the corner of the wall. In addition, you can also freshen the office space by creating green walls.
Space integrated design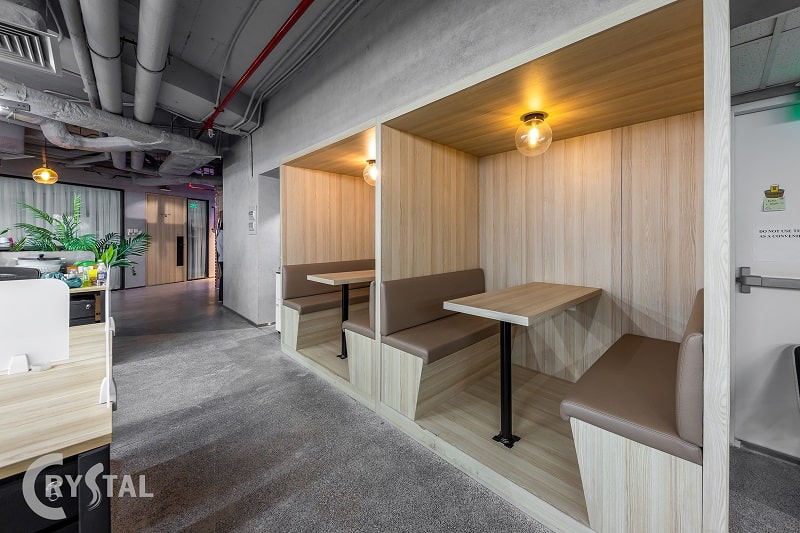 Small office corner intergrated into a café
Working time at the office usually up to 8-9 hours a day, so it is important to have a patient mind and sustain a good mood. Recreational and entertainment spaces act as additional motivation for employees, such as a relaxing space, a small garden, game room or cafe to allow employees to have fun, or work out in the gym. Integrated into a large office, these additional facilities will help employees decide and choose where they will work most effectively.
The design of a company office should reflect the nature of the business and its area of activity. With the majority of young workers dominating the workplace environment at the moment, businesses that pay attention to this factor are often able to motivate staff to be more productive. Every day we spend one third of our time in the office, so a business that knows how to turn the working environment into an exciting space, makes employees feel comfortable and can motivate them which can create more enthusiasm.