A luxurious and modern office interior design can be a very effective source of support for the enterprise, form an ideal workspace, unique, improve mental state, stimulate creativity and push to improve the efficiency of staff. So today, our prestigious interior design company Crystal Design will show you the influence of designing the workspace and a few tips that help improve the efficiency of office design.
The importance of office interior design
Most of the staff in a typical enterprise spend a lot of time working in offices, so creating a fully functional space, with beautiful designs, comfortable and attractive will lead to an efficient and effective workforce.
A beautiful office interior design can have a huge impact on emotion, attitude, inspiration, orientation, and lots of other things affecting your staff. Henceforth, building a comfortable workspace has no longer been considered luxurious, but now being listed as one of the most necessary things to do in an enterprise.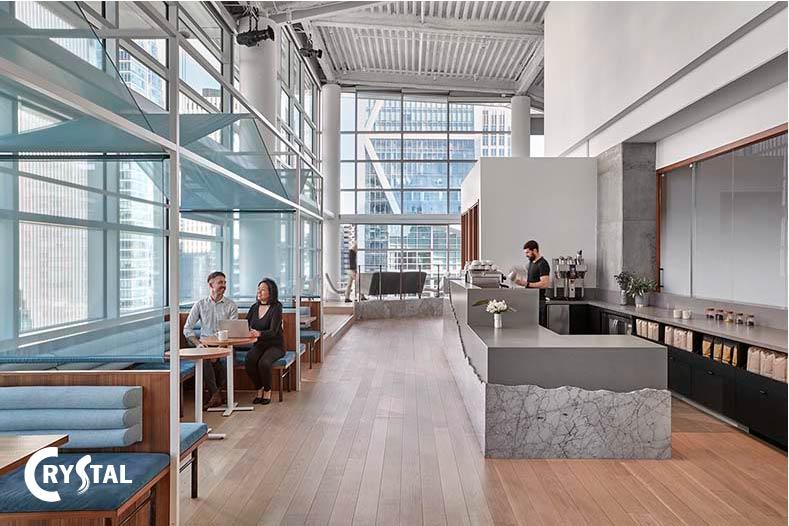 A fresh and fully equipped will form the feel of comfort and improve employees' work efficiency
Specifically, a professional interior office design will bring the following benefits:
Spirit and productivity of employee: A space that is planned and designed thoroughly can increase the spirit and health of employees through providing them different types of workspaces, as well as areas that they can relax to stimulate creativity and interaction between them.
The culture and the brand: Besides assisting employees know more clearly about the culture, and the core values that the company wants to aim towards, designing and constructing office interior will also help clients and your partners to have a crystal-clear view of your brand and the culture of the enterprise you're operating.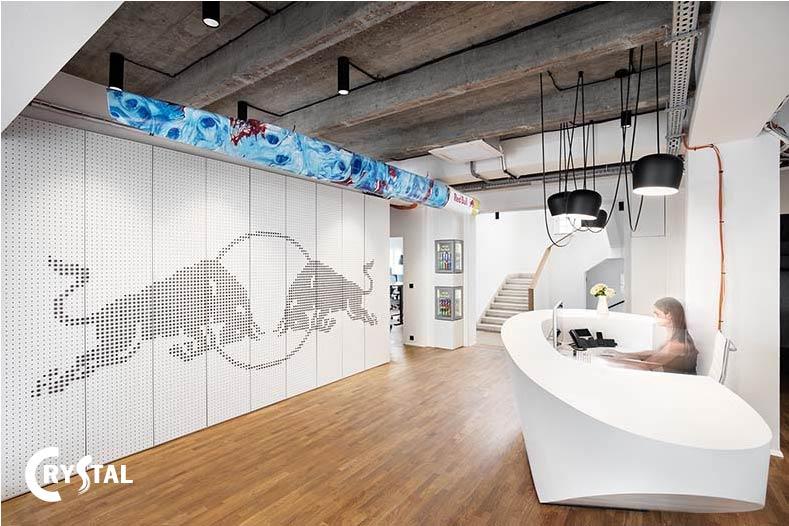 The story and culture of the business will be highlighted through the design of the office in the unique style of the brand
Business efficiency: A great design can have the ability to turn an office full of weariness and overcast into an office full of motivation and inspiration. A happy and satisfied team of employees will improve the business efficiency and from there on improving the effectiveness of investment of the enterprise.
Tips for improving the effectiveness of office interior design
Scientifically designed lighting, optimized natural lights
Lighting is one of the most important factors, directly affecting the health and performance of employees. The layout of the scientific lighting system will help your office become more eye-catching and increase concentration. Besides, you can also try natural light sources such as skylight design in corridor areas or pantry to create ventilation.
Utilize neat and flexible interior decoration
The arrangement and selection for scientific and aesthetic office space will stimulate creativity, create excitement, relax, improve the labor productivity of employees. You should choose smart and modern office equipment, integrating many functions such as long tables with wheels for convenient movement or folding seats that can be folded when there is no need to use. Along with that, you should also limit the layout of unnecessary items and equipment such as devices mounted on the ceiling, walls, and floors.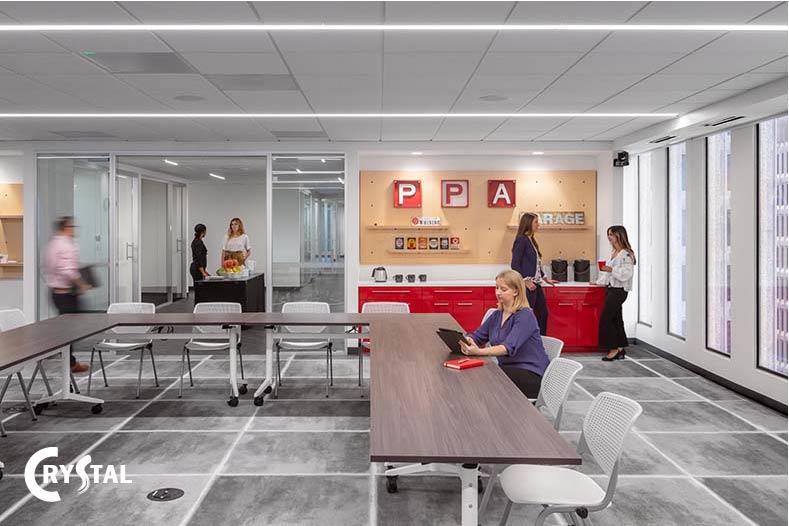 Concise on items and instead more functional integrated devices will make your office neat and scientific
Multi-functional space design
This is also considered one of the trends chosen by many companies today. The flexibility in the form of design and high application can help businesses save space, construction costs, and take advantage of free space. Businesses can apply this office interior design plan by using one space for many different functions: team meetings, customers' appointments, working privately.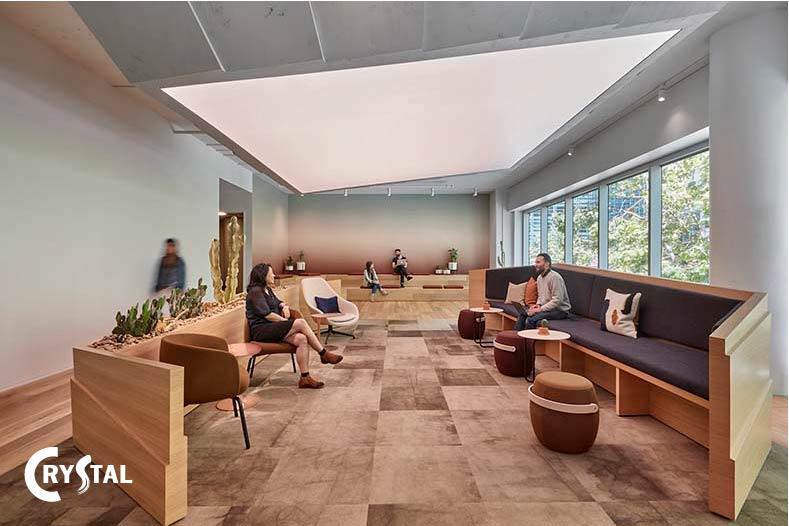 Multi-dimensional space design will create flexibility for working space while saving space
Biophilic space design
Biophilic office design will be considered one of the leading interior design trends in the near future. This design trend creates a fresh and energetic space that stimulates the senses of staff and creativity at work.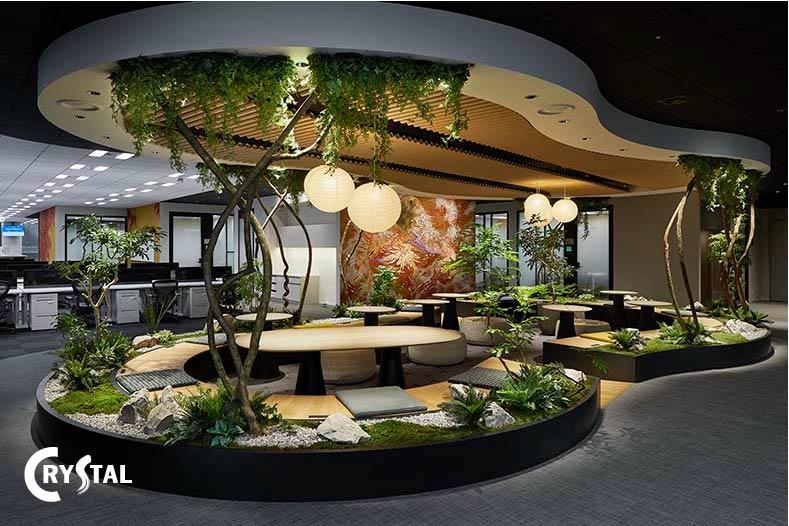 Add lots of green areas in common spaces will offer the feeling of airiness and reconcile the stress of working
Ideal office interior design examples
The following will be some ideas for a unique design and construction office interior for you to get inspiration for your business.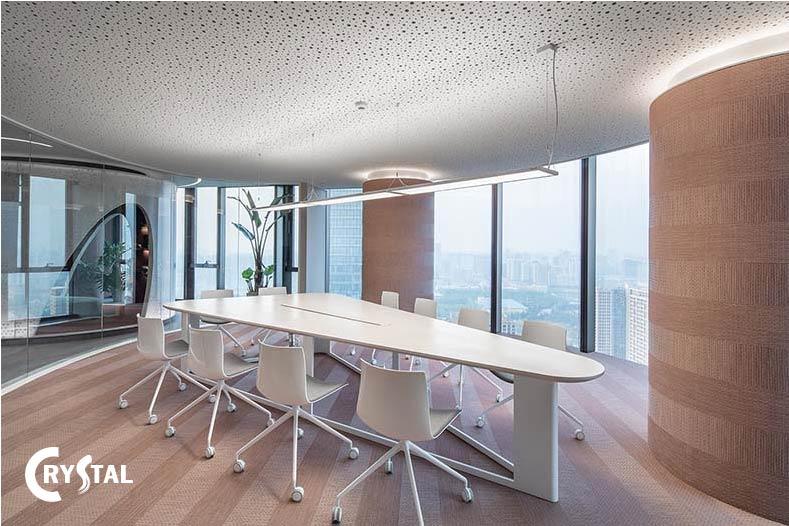 Long tables combined with wheeled seats will make your meeting room more flexible.
Combined with natural light from the window system arranged throughout the office will create a coolness for the office area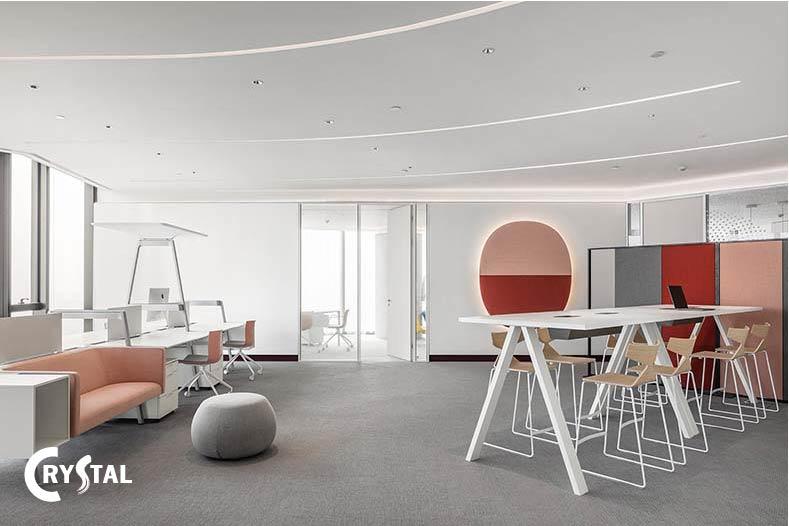 Neutral color tone along with neatly arranged interior decoration to support the concentration of employees during work hour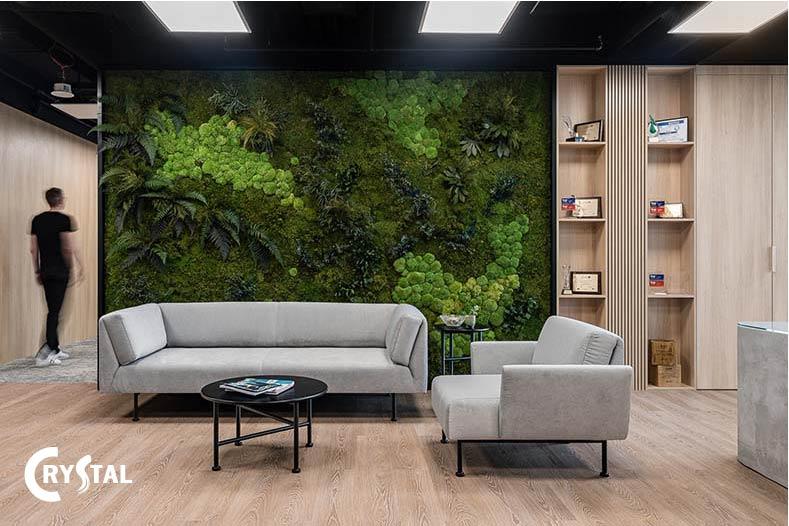 Green spaces in common areas will "cool off" the office, help employees relax, and relieve lots of stress at work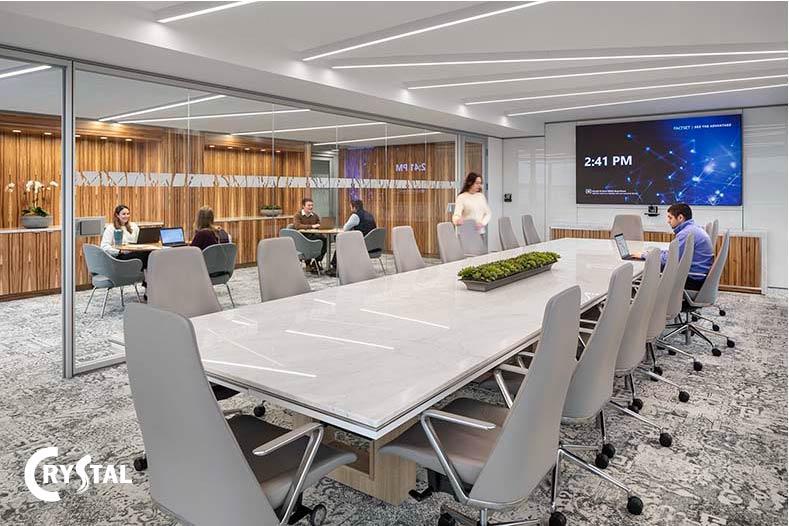 The integration of space through multi-functional office design makes the office more diverse and economical in area and space
Of course that each business will have different needs for office types of equipment. The important thing is the understanding of the activities and the need of the workers so that we can provide the work environment that is beneficial to them. Once that you confirm the right solutions, you will need cooperation with the right unit that can make your visions come true.
Crystal Design is a prestigious design and construction office interior company in Vietnam with more than 20 years of experience will always be ready to materialize our creative ideas for your office. If you have in mind the intention and will need an office interior design service for your company, please contact us for immediate consultation through our hotline: 0906317386.