In order to keep pace with the agile changes of the world and today's business climate, companies need to be able to adapt to new technologies, focus on innovation, anticipate challenges, and make adjustments on the fly. Only Dynamic Design trend can give a greatest solution for modern businesses to achieve these obligations. In this article, the prestigious office interior design company Crystal Design will join you in exploring a relatively new but promising office interior construction trend in the future.
What is dynamic office interior design?
Dynamic office design is an extremely versatile design trend. With this style, you have the ability to transform a space quickly, from a single room to a multi-function premise. Thanks to this feature, the dynamic office interior design is an excellent choice for companies with open floor spaces or small offices.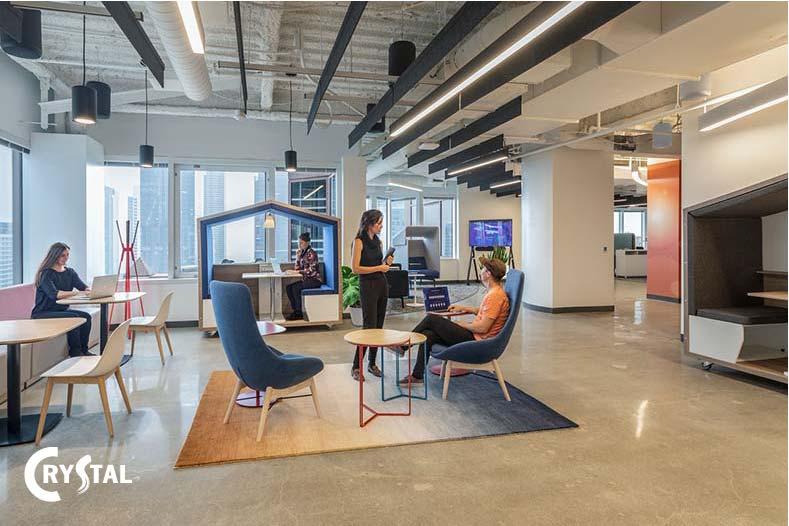 Dynamic office design creates a flexible and personalized working spaces to match the needs of innovation in a team
Dynamic design makes use of multiple integrated, clever and functional solutions. Multifunctional furniture and a lightweight, movable partitions are two examples of such office décor tools.
Rules and Tips to make office design dynamic
Openness: Currently, the dynamic office interior design is toward glass partitions, lots of natural light, and the feeling that movement is free and people are easily accessible. This openness not only encourages dynamism but also reduces some isolation at the office, which can help make strong teams.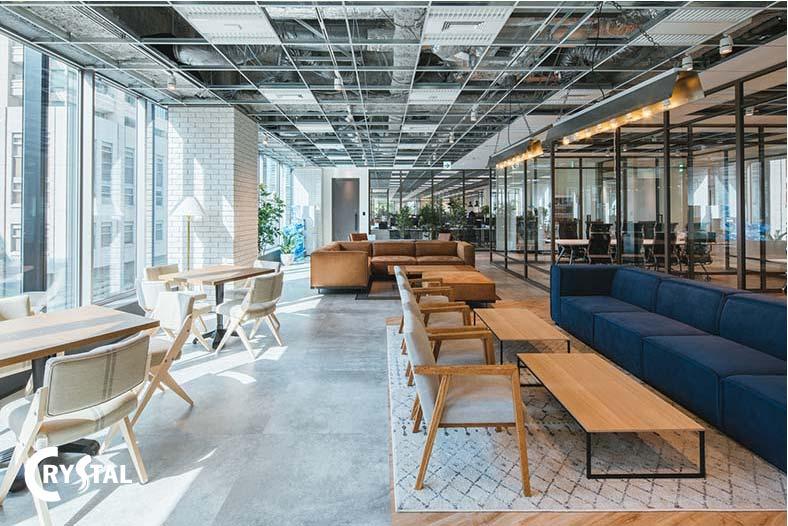 The characteristic of dynamic space is to create the openness, which stimulates the innovation and easy changes in spatial dimensions
Breakout spaces: By incorporating movable dividers, you can completely create different, diverse and flexible meeting spaces depending on the purpose of use and the nature of the meeting. For example, when a big meeting is over, smaller follow-up meetings between related groups or departments can happen by simply rearranging the office space and moving partitions to create many different breakout rooms.
Movable furniture: Multi-purpose furniture with the ability to fold and rotate are great choices for a dynamic office establishment. People can move from a standing desk to a sitting one, or switch to a multi-angle table, or join a long table for meetings. These combinations allow employees to selectively choose a highly focused private working time, or a team time to regularly update the company's processes and projects.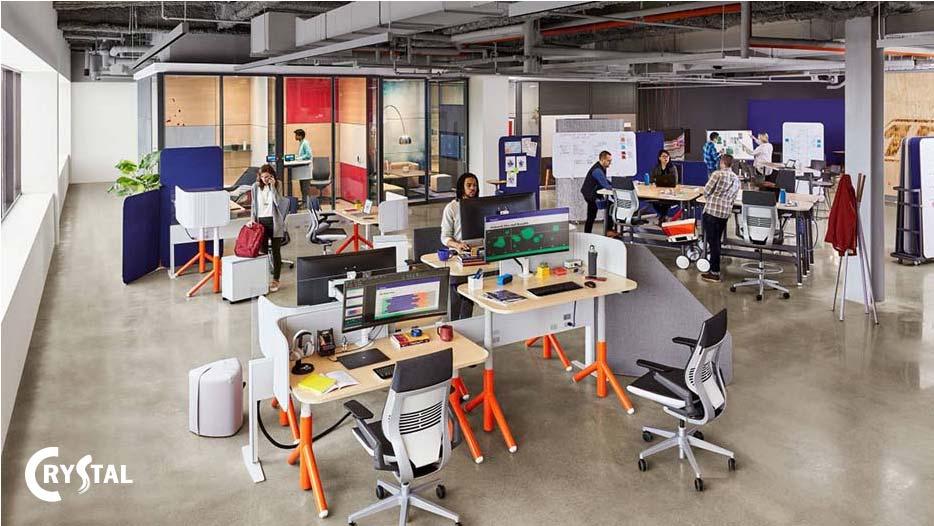 Furniture for this design style must be flexible, multifunctional and easy to move
The evolution of the dynamic office interior design trend
Coworking spaces – Early 2000s
The trend of dynamic office interior construction began around the early 2000s. The starting point of this design has a similarity to co-working office spaces, allowing people to do a variety of different jobs within the same space.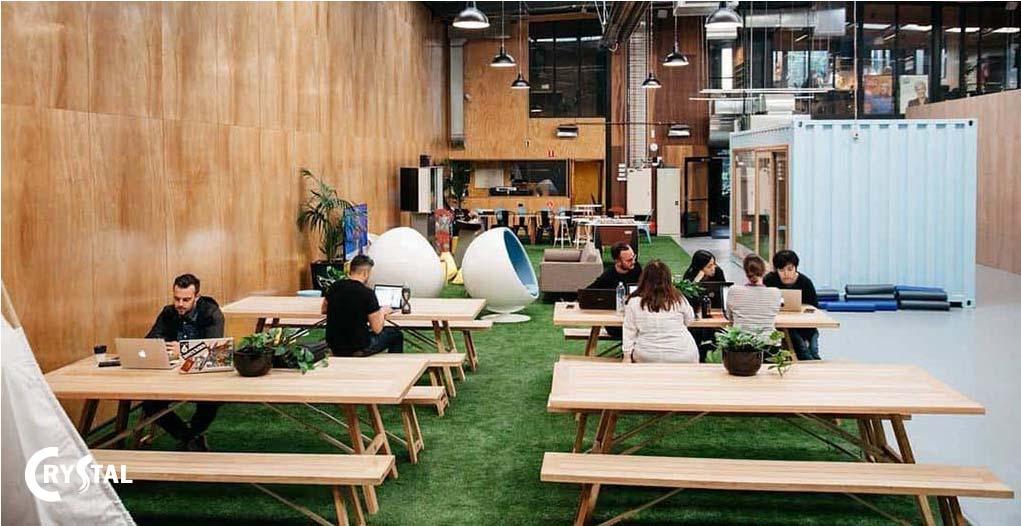 In general, the co-working office is the premise for dynamic spaces to serve the concretization of the functions of departments and employees
By encouraging collaboration, creating a sense of community, and promoting productivity, these designs eliminate obstacles such as partitions that appear in most traditional office design. Dynamic spaces now still utilize a lot of these characteristics.
Key features:
– Flexibility
– Community-oriented
– Productivity-focused
The Original Dynamic Spaces Trend – Early 2010s
Just like modern dynamic designs, these spaces were designed with movable furniture. This allows spatial transformation to meet with the desired purpose of the business and encourage collaboration among employees.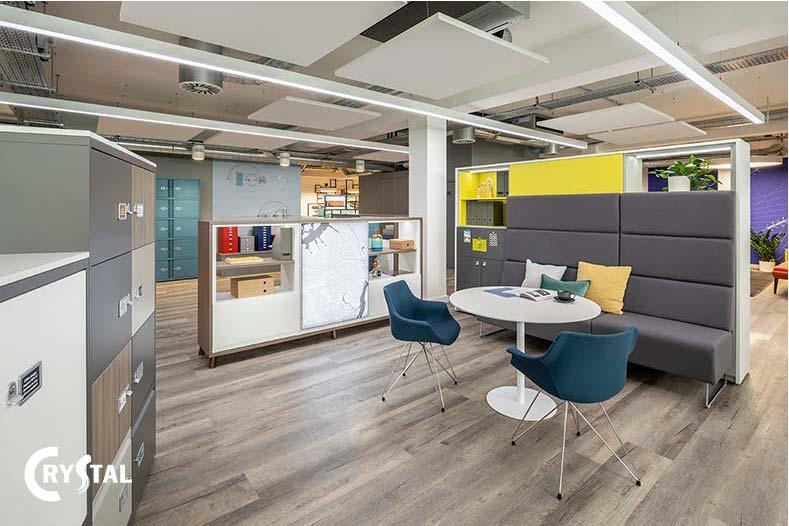 The early stage of the dynamic design established flexible spaces but lacked the technological elements that support modern business world
However, the design of this phase did not include community-focused elements or imbued with technology for a wide range of professional purposes. That leads to a lack of support for employees to focus on improving their personal productivity in the course of their work.
Key features:
– Versatile
– Collaborative
– All-purpose capabilities
Experiential Spaces – Late 2010s
The design of this phase took the coworking space and original dynamic space design and reimagined and retooled them to meet the needs of the modern business world. In addition, these spaces incorporated greenery, furniture on wheels, a variety of color, and aesthetic touches.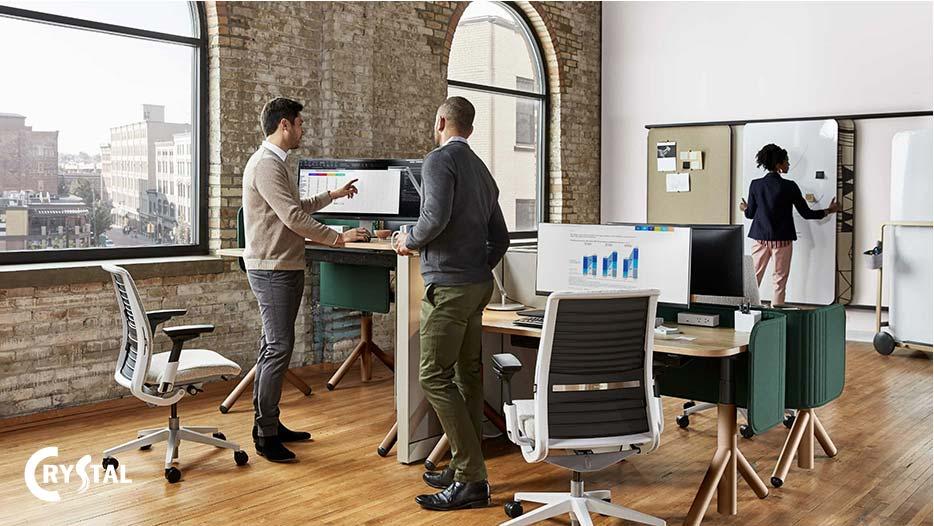 The development of technology requires companies to have a fully equipped furniture and an office design appropriate for high expertise
Such features stimulate much-needed imagination, improving the disadvantages in the traditional style office design. Ultimately, experiential spaces aimed to maximize not only the creativity and idea generation, but also the specific functions of certain businesses and factors that enhance productivity.
Key features:
– Experience-driven/Creativity and idea generation
– Introduction of innovative technologies
– Multi-functional capabilities
Dynamic Flexibility Trend – Early 2020s
Today, dynamic spaces are much more common than they used to be. Dynamic Flexibility trend focuses on making the most out of all of the available office spaces including entire floors, hallways or meeting areas, and even entire properties. Dynamic Flexibility is a way of breaking down barriers and embracing flexibility, allowing employees to use the room or space that best suits their mood or requirements for the day.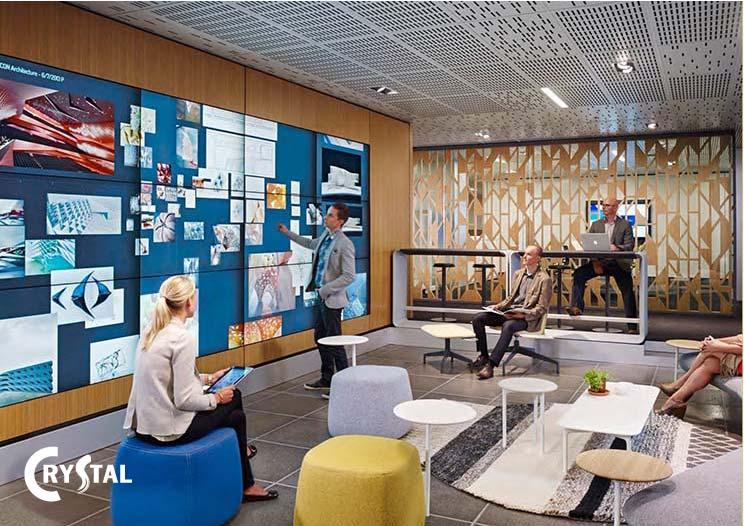 Dynamic Flexibility trend is the perfect support for companies because of its flexible and technology-integrated design
Besides, the biggest evolution is in the design and the integration of technology. The designs are typically more artistically inspired than previous phases, including paintings, plants, movable partitions, and other creative influences. Automatic doors, step-seating, and other similar features are also increasingly common. In terms of technological innovation, these spaces have audio and video equipment, adjustable lighting, computer stations, flat-screen TVs or projectors, etc.
Key features:
– Scale and integration into business
– Full technological integration
– Design-oriented to inspire creativity
Dynamic interior design is one of the influential trends to play a role in successfully pushing the entire business world forward, creating hyper-functional businesses in each stage of the way. This interior design is being applied in almost every industry, as it has proven its influence to create a more seamless, efficient and creative working environment. And if you want to apply this design trend to your business workspace or discuss the office interior design, don't hesitate to contact us, packed office furniture construction company Crystal Design, via Hotline: 0906317386 to make your vision come true.