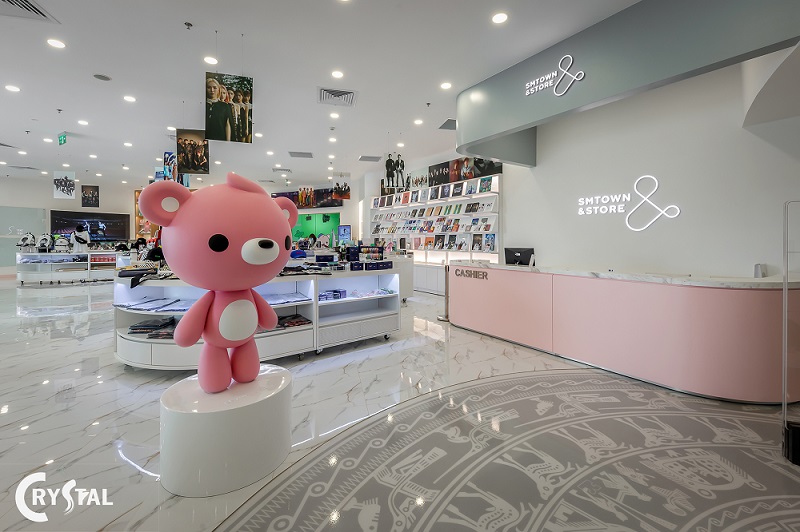 SMTown Café & Store – 4th Floor, Crescent Mall, District 7, Ho Chi Minh City
Since the end of 2019, the K-Pop fan community has been on high alert when information about Korean entertainment giant SM Entertainment was about to enter Vietnam. After nearly a year of waiting, the first SMTown Cafe store in Vietnam, the second in Southeast Asia has officially soft opened on July 3 in Ho Chi Minh City. The project is a collaboration between SM Entertainment and interior design company Crystal Design, with every stage from start to finish, executed by Crystal Design. With no disappointment, Crystal Design has successfully completed the project on schedule, bringing a dynamic space, but still highlighting a part of Vietnamese culture. Located on the 4th floor of the famous Crescent Mall in District 7 with an area of 800m2 divided into 2 main areas: SM Store and SM Cafe. SM Store and SM Cafe are also accompanied by 2 areas that have not been previously revealed as a Casting Studio and the virtual reality AR room.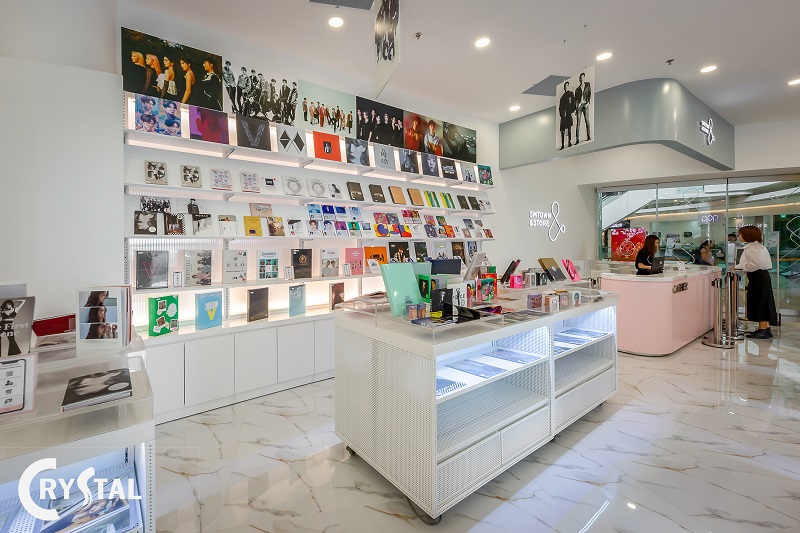 Store area with variety of products
With the Shop area used to display "idol goods" products of famous artists and groups such as BoA, TVXQ, Super Junior, Girl's Generation … From now on, fans do not have to waste time waiting for shipping from South Korea.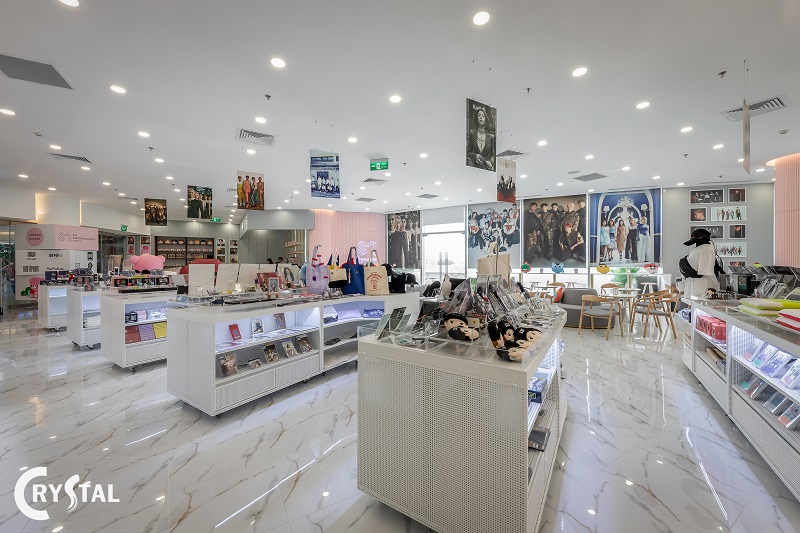 Filled with "idol goods"
The SM Cafe area is divided into 2 areas, with a spacious airy design and a direct view to the Crescent Lake, promising to be a very "virtual" living place in the future.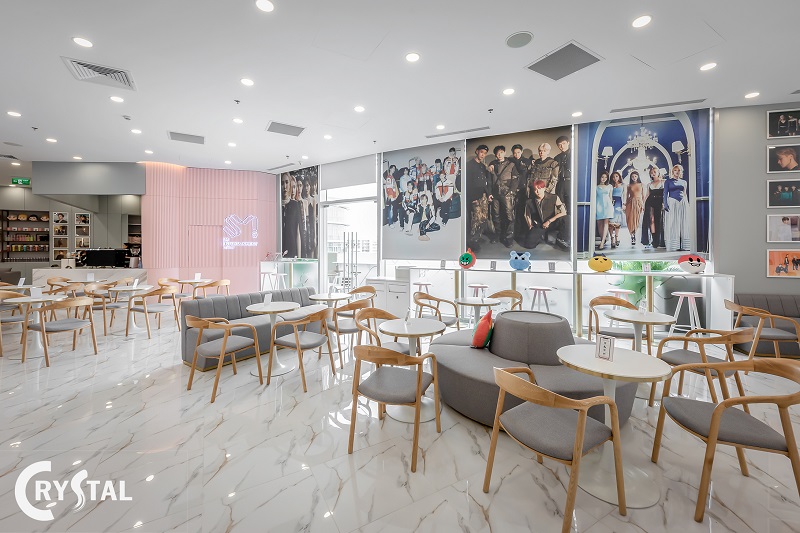 SM Café area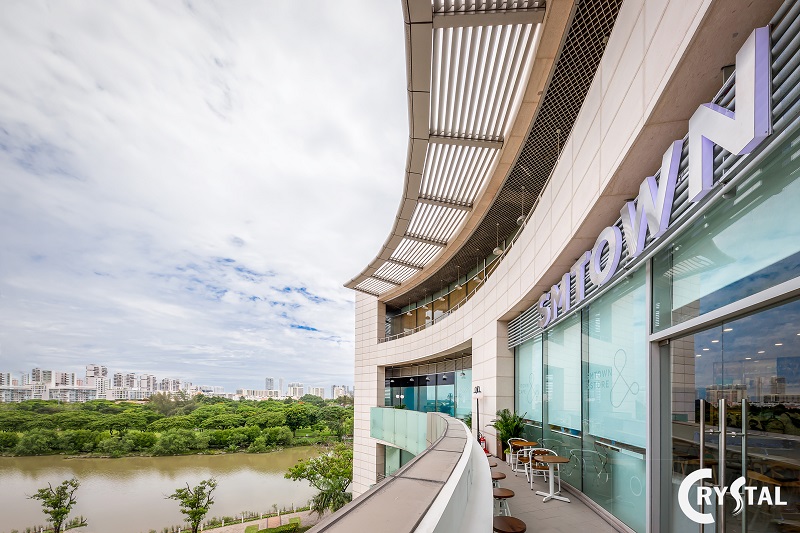 Direct view to Crescent Lake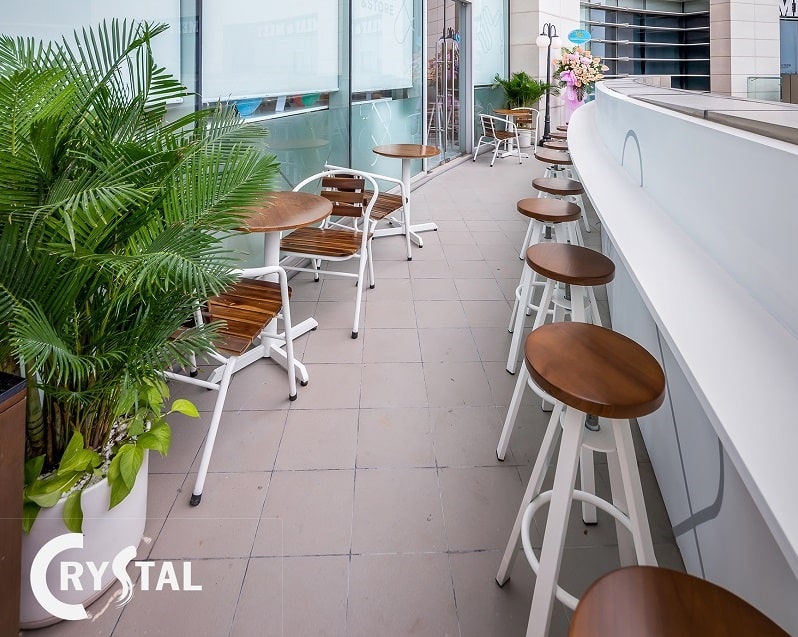 Balcony area feature a nice view
When asked by SM Entertainment to make a combination of two cultures, Crystal Design was very ingenious to integrate the Dong Son drum pattern – a Vietnamese cultural heritage into their design. Specifically, at the entrance of SMTOWN Vietnam, in the middle of the Store & Cafe counter is a large Dong Son drum patterned circle, visible when entering. It shows the creativity in design, creating a harmonious combination of a dynamic Korean space with the symbol of Vietnamese wet rice culture. From here it can be seen that the SM Town team has paid great attention to Vietnamese culture and gave a lot of favor to the Vietnamese community when using the Dong Son drum pattern. Combined with a modern atmosphere and the "main pink color" Of SM, Crystal Design utilized both cultures in a harmonious and innovative way.
Dong Son drum pattern right at the entrance
There is also a Casting Studio area, which in the future will be a place for young people wishing to become trainees of SM Entertainment to come and show their skills and talents.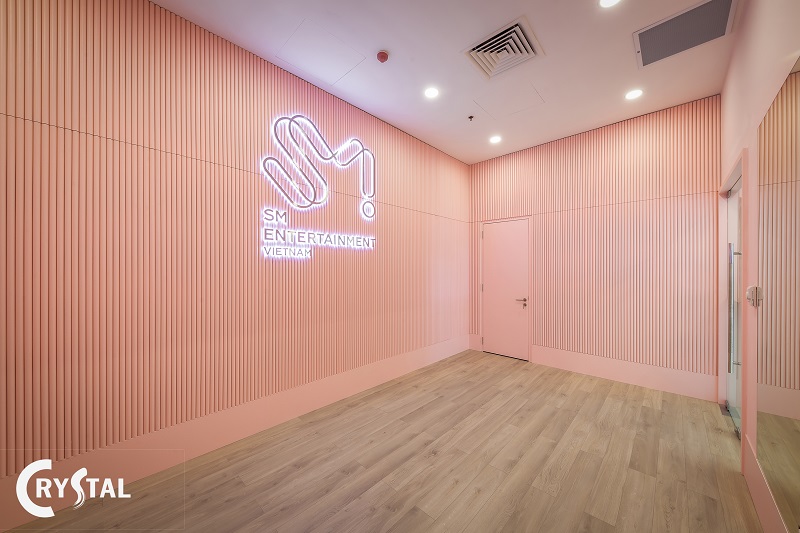 Audition room with SM's main color
The AR Room will be the most special place, where fans can meet and take photos with their idols through virtual reality technology. This area will soon be revealed in the future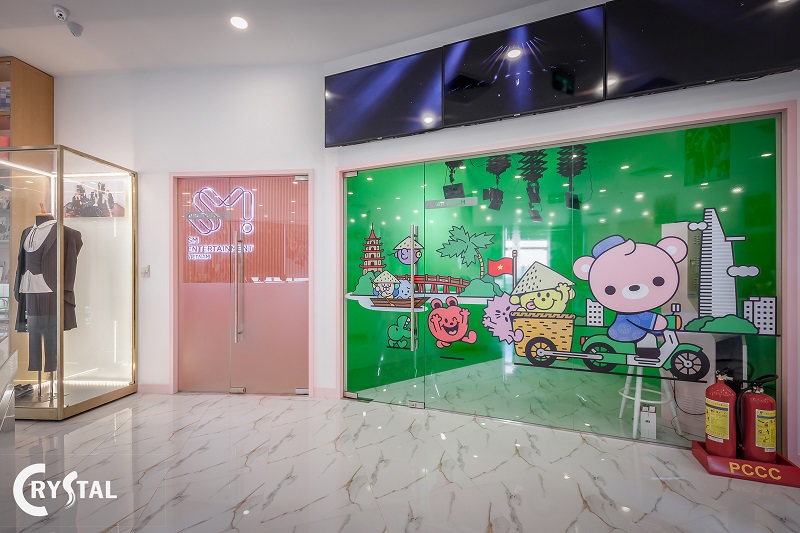 Behind this door is your beloved idol
Crystal Design was chosen by SM Entertainment, a giant in the Korean entertainment industry, to become their office interior design company for their project in Vietnam. Crystal provided the design, construction materials, and production of almost the entire interior, except for SM Entertainment's pink bear mascot imported from the Korean headquarters. This clearly shows Crystal Design's potential in the one-stop-shop package of interior design projects according to customer needs.
Crystal Design with over 20 years of experience, successfully implementing more than 1200 projects in Vietnam has proven their reputation and quality, therefor winning the trust from a series of typical big names like SAMSUNG, LG, CJ, Shinhan and now SM Entertainment. With the ability to consult detailed aspects of interior design, correct space handling, and complete construction on schedule or even earlier than Schedule, Crystal Design can provide a full service from start to end, including in terms of, warranty and customer care. Crystal Design will continuously develop and improve the quality of products for future projects, especially according to experts' predictions. After the COVID-19 pandemic coming to an end, there will be many big Korean enterprises investing in Vietnam, creating more opportunities for cooperation between Crystal Design and major partners. We hope in the future, Crystal Design will be working with SM Entertainment again for new projects and further into the international market.