Focusing on office interior design is a necessity, as most of us spend most of our day in the office to work. The quality of a workspace depends on a lot of factors. The aesthetics and functionality of interior decorations and singly design styles will affect people's work performance. But there is another factor that affects the mood and behavior of employees and makes them feel the desire to come and work, which is the color in the office. Professional office interior design company Crystal Design will introduce the meaning of colors and their impact on the mood of everyone in the office.
The psychology of color in office interior design.
Red is the color that symbolizes intense passion and ambition. Red is a bold color, and one of the most intense colors you can choose, surely red will attract people's attention. It can make employees work more efficiently by creating the illusion that time is passing very quickly. Red will be useful in environments that require high pressure and creativity as brainstorm rooms.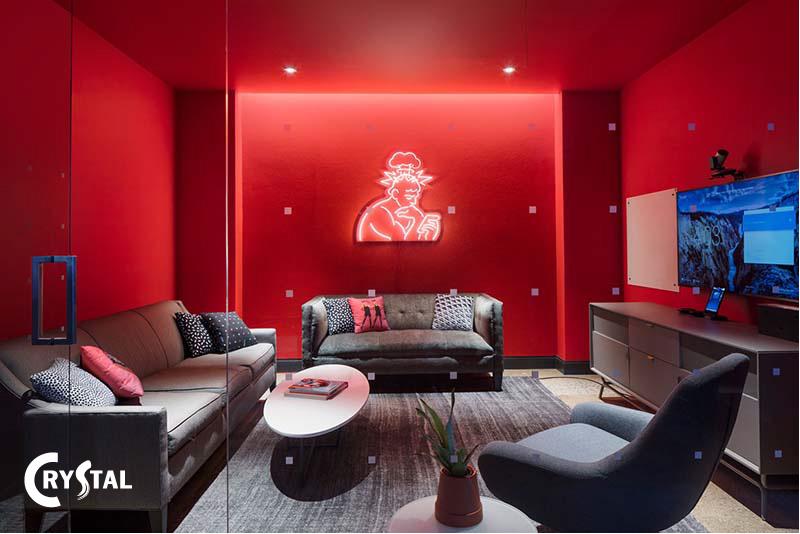 Brainstorm room designed in red tones
In contrast to red, blue-themed office furniture can reduce people's aligning. Blue symbolizes peace, purity and trust. The blue space will create a sense of relaxation, reduce anxiety, and increase the feeling of peace. Blue symbolizes reliability, stability, and confidence. Make this color a great choice to represent the business of many big names such as Facebook, Samsung, and Pepsi.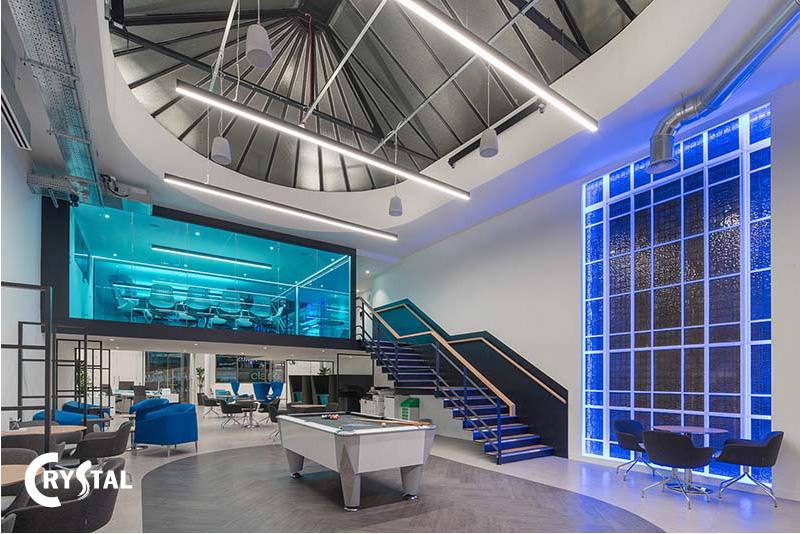 Common space of the office in blue tones
Purple symbolizes loyalty, supremacy, and ambition. Often used to create a sense of luxury, this is a color that indicates rich intellect and imagination. Purple contrasts very well with many other colors making it very flexible and easy to apply. Purple may not be common in luxury office interior construction. But due to the tranquility and elegance of purple, this color is used in relaxation rooms and spa industries.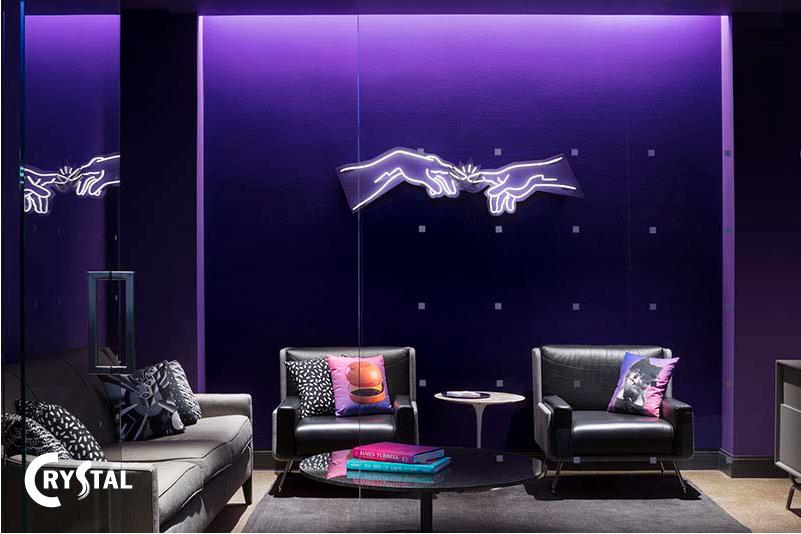 Relaxation room in purple tones
Yellow is the color of the sun, bringing positivity to an energetic and fresh atmosphere. This is the color symbolizes youth and optimism. The color yellow symbolizes intelligence, happiness, and hope. Color psychologists believe that yellow will encourage innovation and is best suited in a work environment for artists, writers, designers, and creative professionals at work.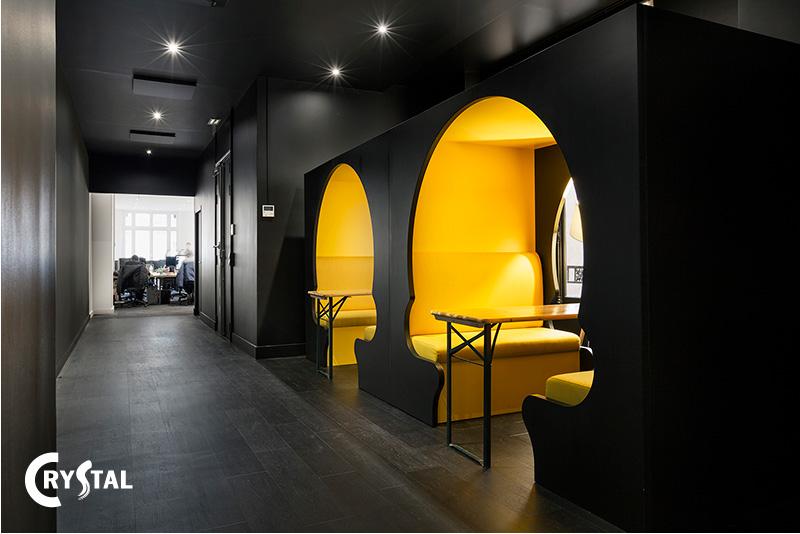 Private work space in yellow tones
This is the color that brings healing, sweetness, and freshness. We all know the smell of grass, the smell of leaves, so having green in the office will create a magical connection of people with nature. A great way to combine green into the office environment is by biophilia style (green office). We can go further by turning blue into modernity by coordinating it into the dominant color of the office. This will create a modern and enjoyable feeling for everyone when working in a green environment.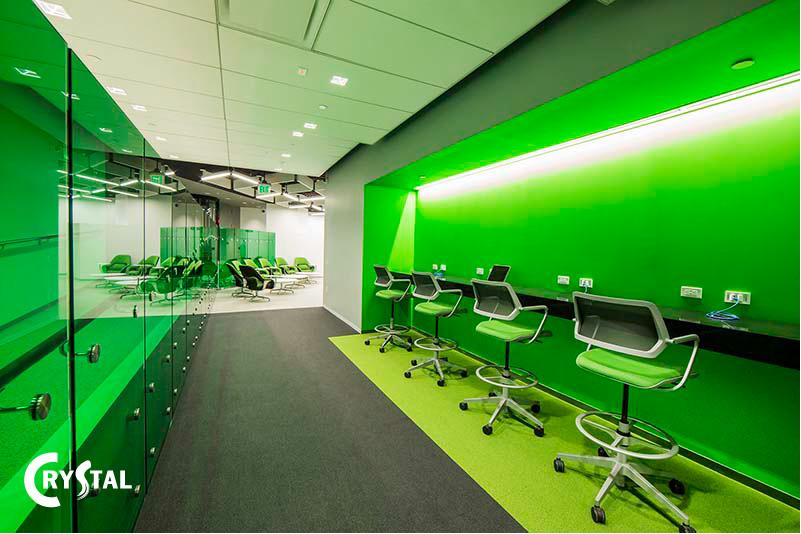 Coworking space in green tones
Colors symbolize strength, elegance, and occult. This will be a striking color if applied wisely. Black expresses the connection with wisdom, stability, and balance. This serious color can contrast very well with the simplicity of white to give a bold affirmation of your brand.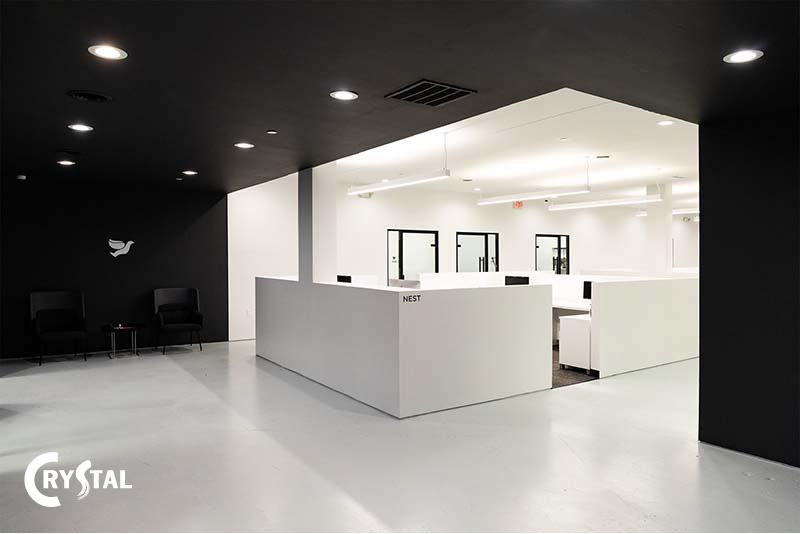 The front desk is in black and white tones
Some office interior designs use a variety of striking colors.
Below are some designs combining many unique colors that Crystal Design actualizes for the customers.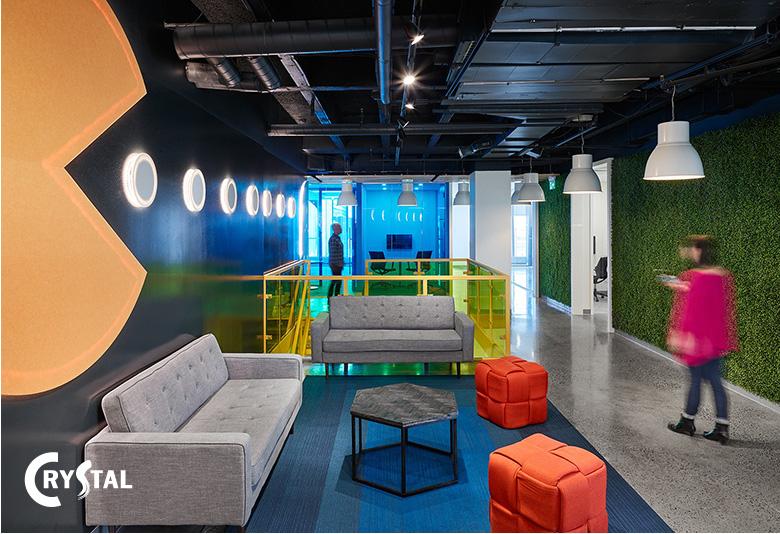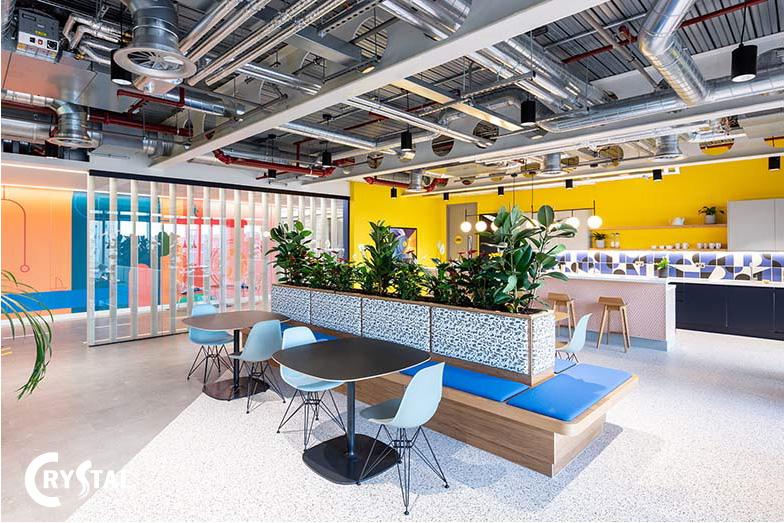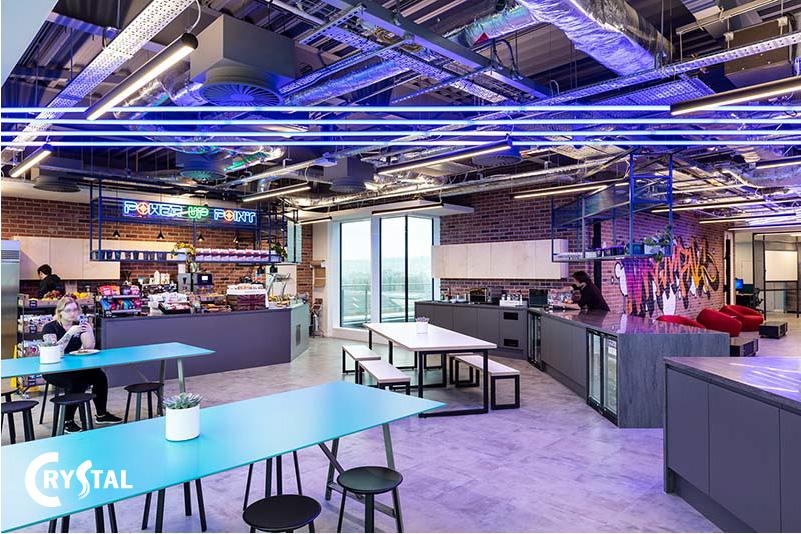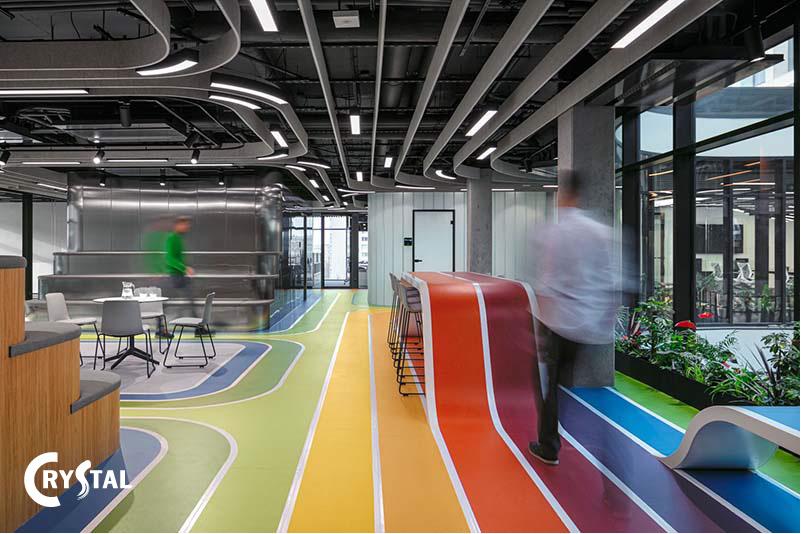 The above color combination styles are new and innovative designs in professional office interior construction. Crystal Design is always aiming for perfection and progressing to make creative designs that surprise everyone.
We can make these designs and combine them with your needs so that the office will bring the spirit of your company culture. We hope you can take inspiration from the above colors and choose the right color to express your company culture. If you need an office interior construction package, please contact Crystal Design via Hotline: 0906317386. With more than 23 years of experience in the company, we can make all the wishes of our customers.